An MBE restaurant owner has invited Prince Charles to dine at his Manchester-based restaurant.
Yang Sing's owner and head chef, Harry Yeung, spoke to Prince Charles in 2004 after being awarded an MBE for his contributions to Manchester's Chinese community.
Harry told how the Prince of Wales expressed great interest in dining at the restaurant on Princess Street.
However, after 13 years of waiting, the Prince of Wales is still yet to taste Yang Sing's traditional Chinese Cantonese food.
In a signed invitation letter to Prince Charles, Harry stated how the Chinese restaurant is celebrating its 40-year anniversary and he wishes to receive a royal seal of approval.
He said: "Since we met, our reputation as one of the UK's longest-standing and best known Chinese Cantonese restaurants has continued to grow.
"We would love to invite you, Prince of Wales, to enjoy a complimentary private dining experience at the Yang Sing restaurant."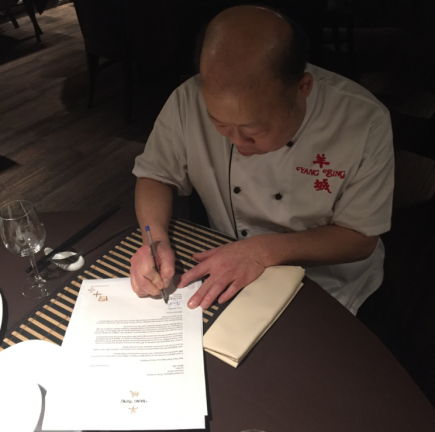 13 YEARS OF HURT: Harry writes the letter to the Prince of Wales, hoping for a Royal visit
Harry also extended the invitation to HRH's family, who will be welcomed as the restaurant's guests of honour.
Since its inception, Yang Sing has been decorated with multiple awards – as well as listings in the Michelin guide and the Sunday Times top 10 restaurants.
The restaurant is a popular location in Manchester for people to enjoy an authentic taste of the Orient in the very heart of Manchester.