A gang of grey graffiti artists took to the streets of Levenshulme this week in a movement to highlight potential pavement hazards and make the area more age-friendly.
Armed with specially-designed biodegradable spray, the "spray-paint pensioners", aged between 50-80, ran riot on March 8 to highlight spots they felt could cause difficulties for older or more vulnerable people getting around.
This retro-revival follows a report outlining the vision for health and social care in Manchester over the next five years and encourages communities and individuals to be more engaged with their personal health.
"The damage a fall can cause to someone more elderly or frail cannot be underestimated," said Dr Mike Eeckelears, Chair of Central Manchester Clinical Commissioning Group and local GP, highlighting pavement pitfalls as a step towards preventing accidents.
The commissioning group along with Manchester's Age Friendly team and Levenshulme Inspire, whom the group of pensioners are linked with, will be working collaboratively to feed into long terms plans for the future of health and social care in Manchester.
Councillor Paul Andrews, Executive Member for Adult Health and Wellbeing at Manchester City Council, was with the Inspire members at their first 'graffiti' session.
"This is art with heart. It's really gratifying to see communities getting involved in looking after one another.
"We all know that prevention is better than cure – and a simple move like this could help people who are not as confident on their feet, or perhaps have limited vision." 
Levenshulme resident and co-ordinator for the group, Kate Williams, said they were looking forward to working with the council and health colleagues so they can pass on their experiences of living there.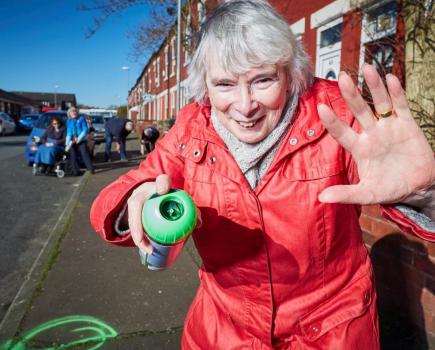 PAINT IS TEMPORARY, ART IS PERMANENT: Kate Williams hopes the different way of catching the council's attention will help pensioners become more mobile
"The paint is temporary, and will wear off naturally," she added.
"But while it's there is does at least show people where we think potential hazards could be."
Images courtesy of Mark Waugh, with thanks.