New chancellor, COVID-19 and the Conservative agenda – what will the 2020 budget mean for Britain?
Tomorrow will see new Chancellor Rishi Sunak deliver his maiden budget for the UK's financial year ahead. Avid cricket fan, Oxford graduate and son of NHS workers, will he get stumped when he makes his debut move?
The budget will be the first announced since leaving the European Union. The previous, delivered in October 2018 by then Chancellor Philip Hammond, was marked as the era of austerity "finally coming to an end".
Income rates were slashed and an extra £500million was released in preparation for Brexit – back when we thought we were going to leave in March 2019.
The upcoming budget will define Sunak's tenure. It will be a key talking point to see if he toes the line of Sajid Javid's previously-set plans or if his close alliance with Prime Minister Boris Johnson will result in a more ambitious 2020 outlook.
Already, Sunak has declared that the NHS will "get whatever resources it needs" to deal with the coronavirus epidemic and the worsening crises within the health industry.
We are working around the clock to make sure we are well prepared for the potential impact of COVID-19.

In #Budget2020 I will outline the specific measures we will put in place to provide people and businesses with the support they need. pic.twitter.com/G7SP3E4X0w

— Rishi Sunak (@RishiSunak) March 8, 2020
HEALTH
NHS Budget
The Health and Social Care budget is expected to be under particular scrutiny as concerns over COVID-19 take precedence over any previous healthcare initiatives.
Even before the emergence of the coronavirus epidemic, the Government had a difficult task ahead of them with regards to the future of the NHS.
In the lead-up to December's General Election, the Tory manifesto promised to both recruit 50,000 new nurses by 2024-25, and construct 40 new hospitals over the next decade. However, NHS Providers (speaking for the 240 NHS Trusts in England) initially estimated that it would need 100 new hospitals and a £7billion injection from the Government to cope with increased pressure on the service.
The 2020 Budget must swiftly tackle these pre-existing challenges if the Government is to minimise the impact of the coronavirus outbreak.
Coronavirus
There are now 373 confirmed cases of the virus in the UK, with fatalities rising to six today.
Sunak vowed on last Sunday's The Andrew Marr Show, to give the NHS "all the support it needs to get through this". However Shadow Chancellor John McDonnell has warned that the amount pledged by the Government is "nowhere near the scale we need".
What the NHS is crying out for is urgent govt action to address endemic understaffing: 43k too few nurses, 10k too few doctors.

Plus the small matter of one of the lowest no of beds – and ITU beds – in Europe.

The legacy of 10 yrs of brutal underfunding. https://t.co/8pKW78xKq0

— Rachel Clarke (@doctor_oxford) March 8, 2020
Lack of funding is not the only obstacle needing to be overcome: there are currently 43,000 unfilled nursing vacancies in the NHS, a manpower crisis that will only become more detrimental as coronavirus spreads.
This has led Ministers to call upon retired healthcare officials to return to work, while retaining their pensions, in the COVID-19 Action Plan published on March 3. This has been met with criticism from people within the NHS, who question the health implications of asking older members of society to expose themselves to the virus. 
Sick Pay
The Budget must also account for Johnson's promise that people receiving statutory sick pay will receive an additional £40 for voluntary self-quarantine.
We can also expect to see the Government's costing of its 'hardship fund', which hopes to help small businesses that have been financially affected by the epidemic.
On top of this, Sunak will have to address the £46million the Prime Minister has already given over to the search for a coronavirus vaccine and rapid diagnostic tests.
TAXES
Taxation will play a vital role in the Spring Budget as the UK prepares its economy for life in the new decade – fresh with emerging problems.
With the climate emergency, COVID-19, Brexit, and a potential recession on the horizon, Sunak's budget will have to prepare the UK economy for global economic instability.
Ahead of the budget, McDonnell has said: "We face three crises – coronavirus, social, and climate emergency.
"All have been made worse by ten years of cuts."   
President Donald Trump suggested tax-relief measures yesterday as a possible response to the impact of COVID-19 on the US economy, after the UK and US stock markets suffered their worst day since the 2008 financial crisis on Monday. 
Pension Tax Relief
It is expected that the Chancellor will introduce measures concerning pension tax relief, which would see part of the money citizens pay in income tax sent to their pension instead.
The change will allow those who earn over £100,000 per year, to increase pension payments and receive a tax relief.  
Mansion Tax
Despite negative reactions from Conservative MPs and voters over the prospect, a recent poll for The Independent has found that 73% of voters would be in favour of a "mansion tax". 
However, according to government sources, it is "highly unlikely" the idea will be included in the budget tomorrow. 
Inheritance Tax – "death tax" 
It is unclear as to how significant the inheritance tax (IHT) will be by the end of tomorrow's budget. 
Former chancellor Javid implied the tax could be scrapped late last year, revealing: "It's something that's on my mind."
However, Sunak is expected to further facilitate Johnson's post-Brexit budget via taxation. 
With an expected forecast of a record-breaking £5.6 billion off the public, this could further alienate those who oppose the tax. 
Tampon Tax 
The Conservatives are set to honour the pledge to scrap the 'Tampon Tax'.
Currently tampons, pads, and other sanitary products are seen as a luxury product and are taxed at 5%. 
'The scrapping of the tampon tax is a victory for the two-decade long campaign by women's groups against VAT rules that once categorised tampons as "non-essential, luxury items".' HUGE BLOODY WELL DONE @LauraCoryton #periodequity #tampontax https://t.co/fjineVZhQi

— Bloody Good Period. (@bloodygood__) March 7, 2020
The Treasury estimates that the end of tax could show a saving of £40 a year for those who use sanitary products. 
The revenue created since 2015, £47million, is supposedly being used for charities working with vulnerable women. 
Environmental tax
As predictions go, there is currently no environmental taxes expected. However, there may be a price increase on single-use plastics announced.
TECH
Internet coverage
The Conservatives' 2020 budget is expected to confirm the investment of £5bn into the rollout of faster broadband. This policy will mainly benefit Northern Ireland, Scotland, and Wales, where broadband coverage is less widespread.
In 2018, the Department for Digital set out the Conservative Party's ambition to provide superfast coverage to 100% of British homes by 2033, which is expected to cost a total of £30bn.
This may include policy which will allow broadband providers access to rented flats without permission from the landlord.
Another key policy that is likely to be announced is an additional £1bn to be invested in 4G coverage across Great Britain in deals with major mobile phone coverage providers. This is expected to deliver coverage to 280,000 homes and 16,000km of roads.
Roads and housing
Highways England announced in November that a third of the projects they expected to complete between 2015-2020 have been delayed to 2020-2025, and £7m will be invested in improvements to Britain's roads, cutting traffic delay times and creating jobs.  
Housing is also an area that the Conservatives are keen to invest in. Sunak is expected to expand on the First Homes scheme which was outlined in the Queen's speech last December. This policy would offer up to a 30percent discount for key workers and first-time homeowners buying new-build homes, slashing the price of eligible homes by an average of £94,000.
Flood defences and waste management
Although Sunak's hand has been forced by the Coronavirus pandemic to pour extra funding into health services, flooding caused by Storms Dennis and Ciara has prompted this government to promise they will double public spending on flood defences to more than £5bn.
This will cover an estimated 2,000 new flood and coastal defence projects, providing protection to hundreds of thousands of additional properties.
Included in the Conservative manifesto was a promise to hugely expand domestic plastic recycling, banning the export of plastic waste to countries outside the worldwide body OECD (Organisation for Economic Co-operation and Development).
This will mean that the government will need to find ways to dispose of plastic waste sustainably, in accordance with their environmental policy.
The National Infrastructure Strategy document was expected to accompany Sunak's budget announcement, but it has been delayed. Sir John Armitt, chair of the national infrastructure commission, expressed frustration at the delay, but added that the commission was "encouraged by the evident focus the government wishes to place on infrastructure."
TRANSPORT
Transport is likely to feature highly on the budget's agenda after PM Johnson's election promises to invest £100 billion in building new infrastructure, including almost £29billion on roads and creating 10 new 'free ports' to help manufacturers and exporters.
With reports claiming flagship project HS2 is already over-budget and delayed, rumours suggest Sunak will address the development plan's issues.
This will not come as good news to GM Mayor Andy Burnham, who will be disappointed that the government's 'levelling up' of northern infrastructure is falling behind HS2.
Major train operator Northern Rail has come under serious scrutiny over the last few months for the prolonged laps in the quality of its service, despite an annual 2.7% fare increase.
The network is now under government control after years of continuous delays and frequent cancellations.
Day one without #northernrail.
Train on time.
Seats available
Sufficient carriages.
In one journey they have achieved everything Northern rail #aviva failed at.

— Rhys (@rjb8622) March 2, 2020
Bosses of the franchise originally blamed George Osborne's decision not build extra platforms at Manchester Piccadilly when electrifying the network in 2015.
They said any delays at the bottleneck had huge knock-on effects on the rest of the network.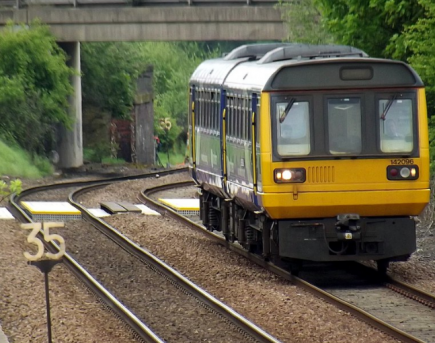 One potential piece of good news for Burnham are rumours that the Conservatives are ready to invest more in light rail projects in Greater Manchester – which could mean improvements to the region's Metrolink system.
In terms of roads, improvement works on the North's motorways are continuing, with the installation of so-called 'smart motorways' ongoing on the M62 in Irlam, Salford.
However, the new highways have come under fierce criticism for 38 deaths being linked to the removal of hard shoulders in just five years.
Other expected announcements include a £5 billion commitment over the next five years on improving bus services, including buying 4,000 carbon-free buses, as well as investing in English cycling routes.
Greater Manchester's cycling network of 'Beelines' is currently being led by Chris Boardman.
Additionally, Transport secretary Grant Shapps also recently announced £10m of funding for residential street electric vehicle charge points on residential streets. The new chancellor may confirm this in the Budget, which could mean in the region of 3,600 more charging points around the country.
WHO IS SUNAK?
Sunak was appointed Chancellor of the Exchequer upon Javid's resignation. Javid left amidst of controversy, when Johnson forced his hand, asking Javid to sack his closest advisors.
Sunak entered ministerial service as Minister for Local Government in 2018. He soon moved up the ranks, and was promoted to Chief Secretary to the Treasury – making him a sure thing to jump into the Chancellor role.
In parliament he has consistently backed Johnson, has been a keen Brexiteer and boasts his MP status in Richmond, North Yorkshire. His constituency exists as a safe seat for the Conservative Party, having held the reigns for over 100 years.
Sunak studied PPE at Oxford, before embarking on a business master's degree at Stanford University, where he met his wife Akshata Murthy, the daughter of an Indian billionaire.
Before taking a dive into politics in 2014, he underwent career stints at Goldman Sachs and hedge fund management firm The Children's Investment Fund Management.
He strives to ensure that "everybody has access to a great education", and has acted as a school governor, a board member of a large youth club and volunteer within education programmes.