A group of retired police officers have banded together to protect the citizens of Greater Manchester from the criminal underworld…of dodgy builders.
In 2012 there were 70,000 complaints made to the UK home maintenance sector illustrating that the demand for honest hard-working builders is evident, according to the Office of Fair Trading.
That's where Blue come in – a group of retired police officers with a love for home maintenance who want to clamp down on 'cowboy builders' and 'dodgy trades people'.
The group want to give peace of mind to the residents and businesses of Greater Manchester and Bolt-on by offering their trustworthy work.
All of the handymen employed have to prove they are capable and experienced in home maintenance work both indoors and outdoors, as well as a thorough assessment course and recent enhanced DBS (CRB) checks.
Usually police officers retire after 30 years of service and a huge number of officers are still eager to continue playing an active and productive role in their communities.
A former police constable, Mark, whose full identity is being kept anonymous, currently works for Blue to tell us more about the company and the work that they do.
"For me, personally, I just wanted the challenge of being self-employed, as being in the police is quite a uniformed and secure job, so I wanted to step out of that and have a role of being self-employed," Mark told MM.
"I joined the company because I like the idea of everyone being police officers and going into peoples' homes, like the elderly, and making them feel comfortable about a stranger in the house doing jobs."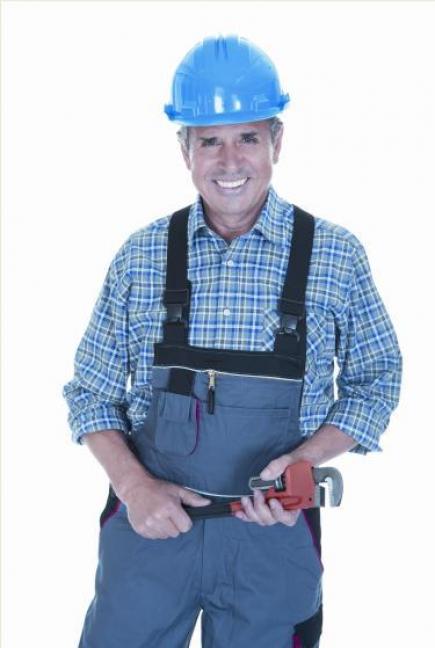 'RELIABLE HANDYMEN': Retired boys in blue
Blue want to guarantee and ensure total trust of all their handymen in order to make the people of Manchester feel safe.
They ensure rigorous ongoing feedback and an improvement programme to continually monitor and improve the service for customers.
The company launched in London this January and followed that by launching in Greater Manchester this April.
The services are already proving popular and the demand for the honest handymen is rising.
Mark told MM: "We have professional couples who are out all day working who are happy to leave their keys with us.
"We also have a few mums ringing up asking to put sheds up too, and I'm currently painting a fence for an elderly lady at the moment."
Chris, a retired officer from Wigan, was one of the first to join the Blue network in Greater Manchester and has already been working in his community.
Chris said: "Having been a police officer for 30 years and being passionate about serving the community, what better way in retirement of continuing to serve the community by indulging my passion for DIY and utilising my skills to assist people in the local area, particularly the vulnerable and the elderly."
Mark also expressed his eagerness to encourage other retired police officers to join Blue so they can continue to provide valuable services to the people of Manchester.
"It's expected of us to keep on trying to make people feel safe," Mark said.
The company have also made a commitment to donate 7.5% of their profits to local causes and charities which are selected by the handymen themselves.
Managing Director, Nick Orde-Powlett, is particularly keen on the socially responsible ethos of the business.
Nick told MM: "I have been delighted with the enthusiasm shown by all of our handymen to participate in voluntary work alongside their paid work with us and many already hold important voluntary roles within their local communities."
One customer, 74-year-old Trish Hunter, spoke highly of the work done by her handyman.
"I originally booked Blue knowing that all of their handymen are trustworthy retired police officers and have since used them frequently," she said.
"I was nervous having had numerous very bad experiences with other handymen and I am thrilled to have discovered Blue. It is a pleasure to have Kevin around, he is so well mannered, polite and nothing is too much trouble."
As well as the company's honourable charity work they will be running a HandyLottery where both people and companies can submit their required list of property maintenance works via their new Facebook page. 
Blue are currently welcoming applications from retired police officers looking to utilise their home maintenance skills. For more information, click here.