One house in Manchester is burgled every hour and seven minutes, according to local data collected from the Greater Manchester Police.
A whopping 7,857 burglaries were reported to police in the region last year, with an average of 21 burglaries reported every day.
Vehicles are broken into almost as frequently, with an instance of vehicle crime in Manchester occurring every hour and a half.
That means 15 people have to deal with a stolen or vandalised car every day in the city.
The analysis, by home security experts, The Safe Shop, uncovers shocking crime statistics as well as worryingly low clearance rates in the city.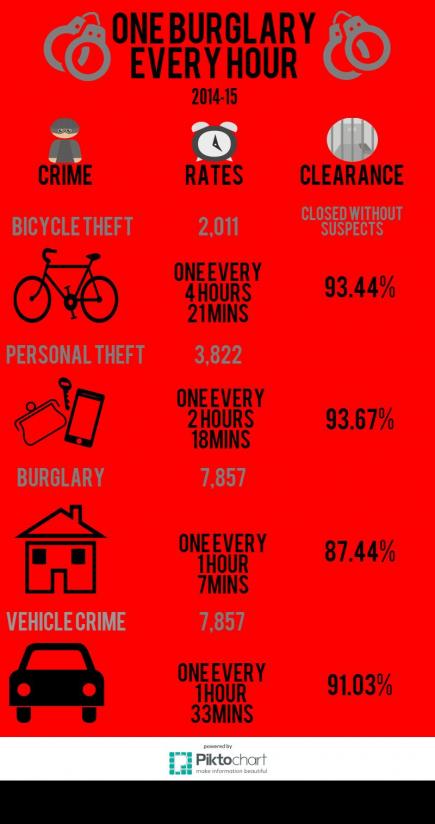 Anthony Neary, the company's security expert, said: "There are an astounding number of burglaries in the UK every year.
"Even though crime numbers in general are slightly down, these statistics highlight how important it is for us to be vigilant about our home security.
"That means locking your house and keeping your valuables hidden and safe when you're not at home."
Ranked 49th in a study of 60 cities for its bike-friendliness, Manchester's bike crime is also concerning, with a bike stolen every four hours and 21 minutes.
This amounts to the 2011 bikes that were stolen in the city last year.
Most worryingly though, is that 93% of these cases are closed without any suspect being identified, meaning the vast majority of people never see their bicycle again.
A College of Policing study however found that these low clearance rates may be due to increasing police time being spent on public protection work.
Steven White, head of the Police Federation, commented earlier this year: "83% of calls to forces do not concern incidents of crime [which] calls into question government claims that the police should just be measured on efforts to cut crime.
"Policing pubs and clubs; house-to-house inquiries and taking statements are just some of the key areas of police work not covered in crime statistics."
To curb crime in Manchester, The Safe Shop has created a crime prevention guide that can be viewed by clicking here.
Image courtesy of Mylene Jerez via FlickR, with thanks.