A generous dog-loving duo of builders have been nominated for a 'animal hero' awards for their work rebuilding Manchester Dog's Home. 
Aydee Dixon and Danny Fletcher made headlines when they offered to rebuild the Harpurhey home free of charge after it was burnt down in an arson attack in Spetember.
Both Aydee and Danny will be one of the many nominees selected by the Daily Mirror and the RSPCA who have chosen the most inspiring animals, individuals and teams who have shown unprecedented commitment to improving lives for the Animal Hero Awards.
Aydee took to Facebook to express their joy and thank the people of Manchester. He said: "Whoever nominated us thank you surprised is not the word !!! Same for the people who voted!
"Also this award is not just for myself and Danny it's for YOU each and every one who has helped offered commented liked shared and cared!!!
"If we could take all of you we would but i don't think there is a room big enough to fit all the love and passion that we receive daily for Manchester dogs home!
"So for now thank you each and every one of you from the deepest depths of our hearts we are truly humbled not just by this award but by everything and everyone that has made this happen.
"We will forever be in your debts and MDH will be permanently in our hearts thank you from myself Danny and the team at MDH."
It didn't take long for the people of Manchester and beyond to share their congratulations.
Ladymichelle Parkerof Chaol-ghleann said:  "Well deserved guys… You don't even know ur selves what you have done for everyone… Ur selfless and compassionate and extremely hard working.
"It was your caring attitude and commitment to work that made the offer to rebuild but on top of that you have helped every1 grieve…. Please accept the thanks and be proud of what you have achieved x."
Julie Gore wrote: "So well deserved, and all those dog that passed over rainbow bridge will be all looking down on you all, with big smiles xxxxx."
Chrissy O'Shea said: "Nothing less than you deserve you deserve so much more nobody could ever show the appreciation that everybody feels for what you have done.
"You are Hero's not only to Manchester Dogs Home but to us too you have put so much time and dedication into everything. I really hope you do win 1st but even if you don't you are the true WINNERS in my eyes. X"
Angela Murray said: Couldn't go to anyone who deserves it more! You deserve to win. Good luck! Xx
Sharon Evans also showed her appreciation: "Like I said what goes round comes round cannot think of 2 people who deserves national recognition more than you 2.
"I know it's shared with everyone involved but you 2 from that 1st night have been outstanding in the commitment of time, energy,  long hours and unconditional love for the furr Babies.
"I am so happy that the rest of the nation will see what heros you are and whether you win or not you have already won because we all know how special you are and we have taken you into our hearts have a great and well deserved trip  x."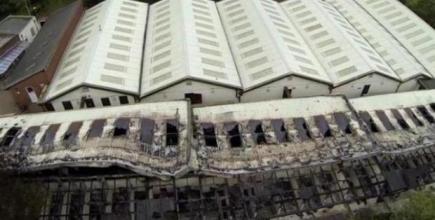 HORRIFIC BLAZE: Manchester Dog's Home left to dust after vicious arson attack
Since the horrifying attack which saw up to 60 defenceless dogs die, the Manchester Dog's Home Rebuild Facebook page has been inundated with requests from traders, plumbers and plasterers all offering their skills for free.
The Powerhouse Property Service builders will find out if they're winners at the awards show which will be hosted by Amanda Holden at the Grosvenor House Hotel, Wednesday November 26.
Manchester Dog's Home is also searching for two sculptors to assist them with their plans to create memorial statues at each of their homes in honour of the dogs they lost in an arson attack.
In their latest statement MDH expressed their ongoing grief: "We continue to mourn the loss of dozens of our dogs – vulnerable animals whom our staff and volunteers had known, loved and cared for.
"The loss of one dog in this way would have been terribly sad; to have lost this many, and in such a way, is incomprehensible."
"We have received so many donations, offers of practical support, words of kindness and messages of hope – from individuals, families, businesses and other charities – all of which have helped us tremendously in this very difficult period."
Manchester & Cheshire Dogs Home has successfully rehomed 1million dogs since opening in 1893 and received an average of 20 dogs per day.
Over £2million was donated after the fire as well as dog food, beds, blankets and other essentials in an unprecedented display of generosity from Mancunians and others across the country.
Offers of help can be made via the rebuild website: http://manchesterdogshomerebuild.co.uk 
Donations can be made at https://www.justgiving.com/dogshome/
Images courtesy of InsideOut North West via BBC iPlayer, with thanks.