Manchester City Council has revealed that the number of rough sleepers recorded on the streets of the city centre has increased by over 300% in the last five years.
An FOI submitted by MM found that during the financial year 2013-2014, the number of recorded rough sleepers was 24. For the 2016-2017 financial year, that figure rose to 78.
Across the half decade period in question, year-on-year increases were substantial.
Figures almost doubled between the 2013-2014 financial year and that of 2014-2015, going from 24 to 43 recorded individuals.
The biggest jump by far, however, came between the 2014-2015 and 2015-2016 financial years, with the total number increasing from 43 to 70.
According to a Manchester City Council spokesman, statistics for the current financial year are yet to be released and are therefore not held currently.
No indication was given of when these figures are expected to be released.
These recorded, official figures do not account for those homeless individuals that are as yet unrecorded in Manchester city centre and do not include those that sleep rough around the rest of the Greater Manchester area.
In a special report on Wednesday, BBC's North West Tonight quoted statistics from the homeless charity Shelter, that revealed more than 9,300 people in the region are homeless today, increasing by 24% since last year when there were 6,300 homelessness cases.
In the report, Manchester was singled out as one of the worst affected areas in the country.
Manchester City Council does not deny that the city has a chronic homelessness problem.
The BBC quoted Mayor of Greater Manchester Andy Burnham, who said: "These figures should be a wake-up call for everyone. The safety net that used to be there beneath all communities now has large holes in it."
Nationally, the BBC stated that 1 in 25 are homeless in England's worst hit areas. Shelter's figures show that there are currently over 268,000 people across the country currently classed as homeless.
In a statement, a Manchester City Council spokesperson said: "While rough sleepers are the most visible element, it's important to note that the issue is even broader and includes families and individuals in temporary accommodation.
"Significant steps have been taken since the launch in May 2016 of the Manchester Homelessness Partnership – chaired by Bishop of Manchester the Right Reverend David Walker – which brought together public, voluntary and faith sector organisations to work together tackling homelessness in the city."
Councillor Bernard Priest, Deputy Leader of Manchester City Council, added: "Homelessness is a seriously complex and challenging issue which we have been working day and night – in close partnership with commissioned and non-commissioned voluntary sector agencies and other partners – to tackle.
"We have put a lot of measures in place and continue to refine and reinforce the support that is available."
In September, Manchester City Council announced plans to transform an empty former residential care home into a 38-bed homelessness prevention centre.
Planning application dependent, the Longford Centre in Chorlton will provide emergency temporary accommodation for low to medium needs individuals with an aim to 'prevent people becoming homeless and help them move forwards'.
Another project saw a new hostel, the Stop, Start, Go Sustainable Living hostel in Cheetham Hill, opened on October 10 this year.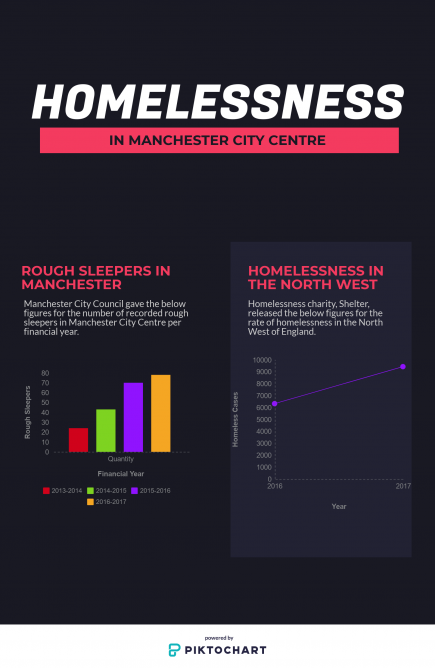 The centre currently has 12 beds (though it is hoped this figure will soon rise to 15) and provides 'medium-term accommodation to get people who are rough sleeping off the streets while they get their lives back on track'.
Mayor Burnham said: "The opening of the Stop, Start, Go Centre is a big step forward as we work to end rough sleeping in Greater Manchester. 
"The people using the accommodation have themselves been the ones who helped shape how this new centre will work and I'm confident their approach will make a real difference. 
"The centre's plans to offer tailored support for as long as people need it, is exactly the approach I want to see across Greater Manchester."
Other Council initiatives include a new library membership scheme, launched on October 24.
The Council explained the scheme will help the homeless to register as library members and access the full range of resources and information available at the city's 22 libraries.
Tackling Manchester's homelessness issues remains one of Mr Burnham's biggest pledges as the city's mayor.
Mike Wright, the Strategic Lead for Homelessness for the Greater Manchester Combined Authority, said: "Rough sleeping remains a key priority for the Mayor and this has increased across Greater Manchester as a whole, not just in the city of Manchester as, indeed, it has done nationally, sadly.
"His view is that as a society, there should be no reason that anyone should have to sleep on the streets of our region or our country."
The Council admits that, while Manchester has strengthened its approach to tackling homelessness, it will need to ramp up its work further to address the challenges of forthcoming welfare and legislative changes.
Image courtesy of Smabs Sputzer via Flickr, with thanks.