Northern England's largest train operator paid out more than £165,000 in compensation for late trains in the last year – with one in four not running on time.
Northern Trains – previously known as Northern Rail and Arriva Rail North – recorded almost 200,000 delays in the past 12 months, data from a Freedom of Information request revealed.
Figures show almost 20,000 of the 754,748 scheduled trains were cancelled.
Although the company class a delay as a journey that has been delayed by one minute or more, only customers who arrive at their destination at least 15 minutes later than scheduled can claim compensation.
The Delay Repay scheme has paid £165,602 since November 2020 – including more than £60,000 in August and September this year.
A spokesperson for the company said: "Northern operates thousands of services every single day with the huge majority being completed as per schedule.
"Unfortunately, there are times when some services either need to be cancelled in full or for part of their planned journey.
"Cancellations can occur for a large number of reasons, many outside of Northern's control and may include, bad weather, faulty infrastructure, line blockages, incidents of safety, staff sickness, other train operator problems and train faults.
"Similarly, some services may complete their planned journey but may suffer delays which again can be caused by numerous reasons."
Of the 754,748 trains that were scheduled between November 11, 2020 and November 10, 2021, almost 20,000 were cancelled or part-cancelled.
The Department of Transport defines a part cancellation as a train that runs more than 51% but not its full journey.
The worst day for travel on their network was 20 January this year when more than 500 trains were cancelled – almost a third of all scheduled journeys that day.
A press release issued by Northern attributed this to heavy rain and flooding across a large part of their network.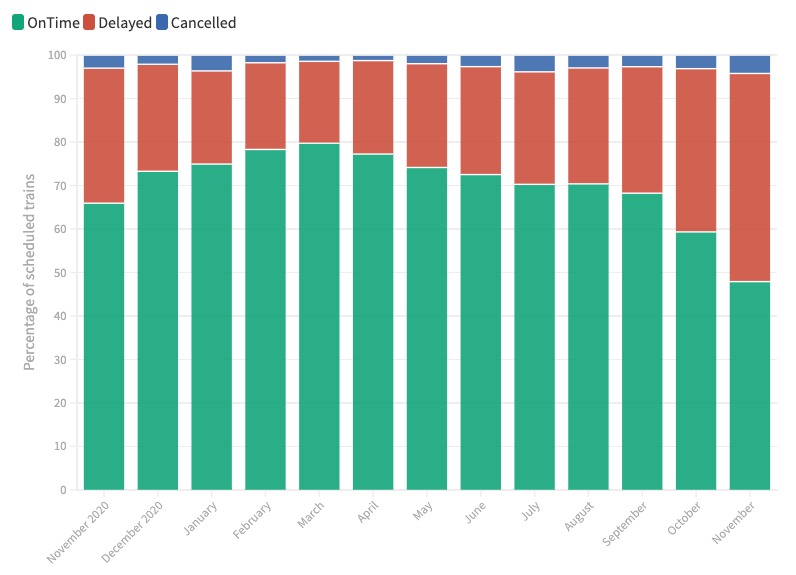 Northern operate at the most stations in the North of England and call at more than 500 stations – approximately 20% of all UK railway stations – of which they manage 479.
The amount of compensation paid to customers dropped as restrictions were implemented during the COVID-19 pandemic but when these restrictions began to end in May 2021 numbers began to increase considerably.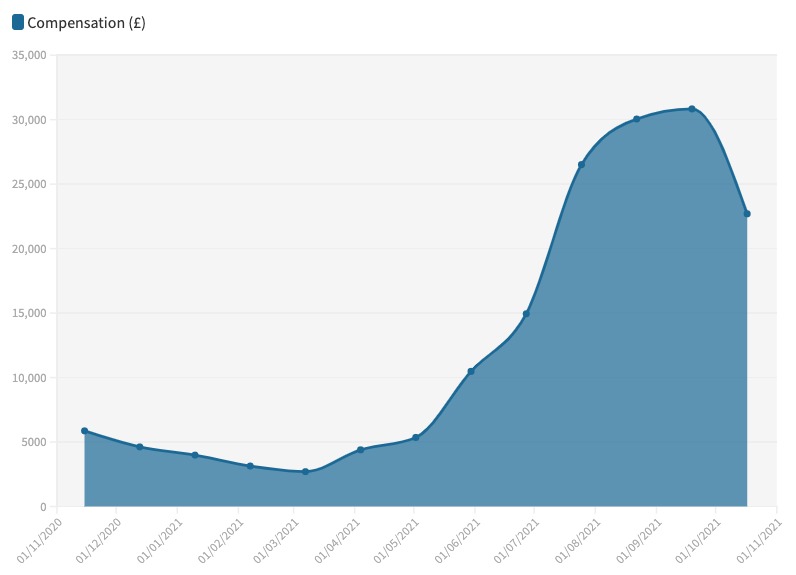 Northern's passengers have long been frustrated by what they view as consistently poor service.
The company was stripped of their franchise in March 2020 and operations were handed over to the government's Operator of Last Resort with the aim of improving services and rebuilding passenger confidence.
There are also several social media accounts set up by disgruntled passengers with the aim of highlighting the company's faults.
The Twitter account @northernBetrail – which says it is managed by several ex-employees of the company – believe the root of the problems are caused by a no rest-day work ethos combined with poor management.
They said: "We worked within Northern and could see the daily failings.
"This was not just delays and cancellations but also accessibility issues for customers needing extra assistance.
"We played an instrumental part in Northern being stripped of their franchise and, hoping things would improve, our account relaxed slightly but kept a watch on the performance."
@northernBetrail believe the pandemic worked in Northern's favour as the number of complaints fell because fewer people were travelling.
They said: "When [passenger] numbers started rising people started complaining again.
"We appreciate some things are out of their control but other factors relating to staff [and] cleanliness could be avoided."
This data comes after the government were accused of breaking promises around their 'levelling up' plans and deprived the North of much needed rail network improvements and extensions.