Preparing for the birth of your first-born should be the most exciting time in a couple's life.
Cooing over miniature outfits, stocking up on nappies and choosing baby names ought to be the most time-consuming things expectant parents have to deal with before they welcome their new arrival.
But some babies are born so premature, so weak, they cannot survive in the enormous world around them – everything is too big, even their mother's arms.
And some parents go home not cradling their bundle of joy, but empty-handed and broken-hearted. 
This was the devastating situation faced by Wigan couple Louise Hopwood, 27, and her husband Chris just a few short weeks ago, whose twin babies died after being born prematurely.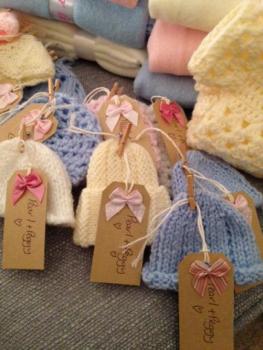 'IT MEANT EVERYTHING': Louise says having clothing makes a big difference
No item of baby clothing that the hospital could provide were tiny enough for Pearl and Peggy Hopwood, fully developed but both weighing less than one pound.
Louise gave birth to Pearl and Peggy at the Royal Albert Edward Infirmary in Wigan on January 2, just 21 weeks into her pregnancy.
"When Pearl was delivered, she actually cried," said Louise. "She lived for 20 minutes. They were perfect, but we had nothing to dress them in."
She and husband Chris were overjoyed when the hospital offered to dress the girls, but the clothes and wool hats swamped their tiny frames.
"I was so disappointed," said Louise. "It seems so trivial, but it meant everything."
A charity for bereaved parents sent them a keepsake box to help them capture their memories of Pearl and Peggy, a gesture which provided immeasurable comfort.
And so, after returning home empty-handed from the hospital, Louise immediately had the urge to offer such support herself.
Along with her mum and aunty – a family of creative women – she began knitting miniature garments to donate to the hospital.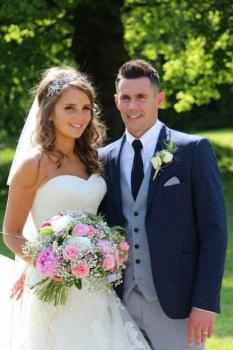 BRAVE COUPLE: Louise and Chris on their wedding day
Louise's nan had been in the sewing industry and passed on her skills to each generation, but Louise had become 'a bit rusty' and had to learn all over again.
One of the midwives told her premature babies are born at Wigan Hospital roughly once every two weeks. Some will survive, others won't.
Fiercely working towards a target to keep herself busy, at the end of January Louise was able to deliver a beautiful parcel of doll-sized clothing.
There were 30 lovingly-crafted outfits, 30 hand-knitted hats. Enough for more than a year of premature babies at Wigan.
They plan to provide the same for five other hospitals in the area.
Louise set up the Facebook page 'Pearl & Peggy' to document her project and has been overwhelmed by offers of help and words of encouragement.
They also created a video to document their journey since getting married last June and discovering they were pregnant almost immediately.
The page already has hundreds of supporters, with many people wishing to make donations.
Louise cannot accept these as the project is not part of a registered charity, but asks people to buy wool or blankets instead.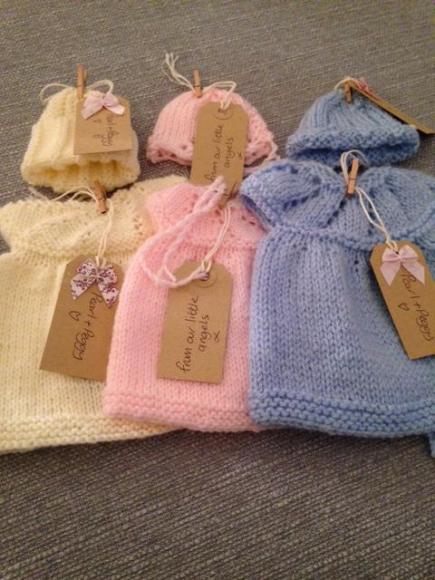 'TOO BEAUTIFUL FOR EARTH': Clothing made by Louise
There are now also five or six other women knitting as part of the cause, one of whom sent Louise ten baby bonnets on Sunday.
"I really didn't expect it to reach anyone else," said Louise about the page. "It was just supposed to be something for our friends and family to see."
The care they are shown makes them stronger, she adds, and 28-year-old Chris set up a Facebook account so that he too could witness the kindness of strangers.
"What was so upsetting," she said, "is that we thought no-one would ever know them."
But their daughter's names will become a symbol of love and support for many parents, handwritten on tags that are tied with a bow to each completed garment.
Her determination and focus in the aftermath of such an experience is quite amazing, but stems from a vital need to help others.
"I'm a believer in fate and what is meant to be is meant to be. It has happened for a reason and I wanted to make a bad situation into a positive situation."
When she lost her daughters, Louise believes she may actually have been in labour for two or three days.
She suffered from 'horrific' back pains on New Year's Eve and had an early night at her mum's house, where they were having a party.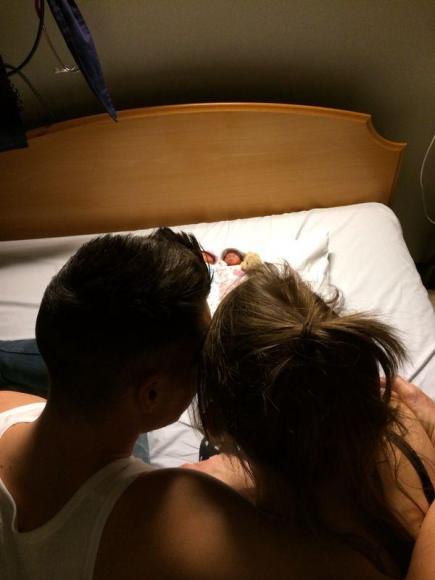 SAYING GOODBYE: Chris and Louise stayed strong together
When she got out of bed to see in the New Year, she simply knew that something wasn't right.
Doctors at the hospital believed she may have a water infection and gave her treatment accordingly, as the Bank Holiday meant a delay in getting any test results back.
She was sent home but returned to hospital two hours later, when it was confirmed that her water infection was actually slow labour.
Identical twins are often born early and Louise had been warned of this – but was expecting perhaps five weeks earlier, rather than almost 20.
She had considered an early labour a positive thing, glad that she would only have to be pregnant for eight months.
Pearl was born at 5:07pm, surviving for the 20 minutes it took for her baby sister to arrive.
Peggy only lived for five minutes.
They still do not know the cause of Pearl and Peggy's prematurity, due results from any genetic testing taking six weeks.
Louise will return to work in March, as a clothing manager for Tesco, roughly when she should have been going on maternity leave.
She is sure this will be an emotional time, but can take comfort from knowing she has provided for so many other babies 'not lucky enough to walk this earth'.
Louise wishes to thank her midwife Carol Hardin and Sankey & Monks funeral directors in Leigh, who paid for the funeral of Pearl and Peggy themselves.