Dedicated autism friendly screenings (AFSs) are being shown at two major cinema chains in Manchester this month.
ODEON at the Printworks and Trafford Centre, and Showcase on Hyde Road, Belle Vue, will roll out one AFS a month following on from their long-standing partnership with non-for-profit care provider Dimensions UK.
First off all, Showcase will entertain cinema-goers with The LEGO Batman Movie on Sunday, March 12 at 10.00am.
The ODEON sites will later follow its lead when they show Beauty and the Beast on Sunday, March 26 at 10.15am.
People with autism can have difficulty processing sensory information, too much of which can cause stress, anxiety, and possibly even physical pain.
These screenings prevent this issue by leaving the lights on low, turning the volume down, removing the trailers and giving visitors the freedom to move around within the cinema.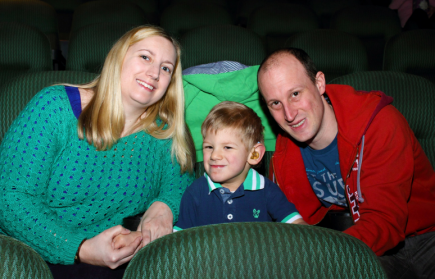 FAMILY FUN: The scheme means no one is excluded from the cinema experience 
Peter Colley, who blogs about living with autism, was convinced his first AFS would not be an enjoyable experience as he expected swivel chairs, oversized headphones, dimmed lights and bean bags.
He was therefore pleasantly surprised with what he encountered.
Peter explained: "In terms of autism friendly, it's not so much, 'go out of your way to accommodate them', as it is 'give them the space and freedom to be themselves'."
Dimensions UK – the care provider that supports people with learning disabilities and autism – believe the scheme can prevent individuals from feeling 'excluded'.
Nick Barratt, Head of Behaviour Support at Dimensions UK, said: "Autism friendly screenings are so important for both families and individuals who can feel excluded from the traditional cinema experience because they find the experience too stressful due to sensory overload.
"We have seen how successful such initiatives can be – so far we've had over 300,000 visits to local cinemas for an autism friendly screening. We are excited about the prospect of building upon that further."
Dimensions UK began the project in August 2011 after partnering with ODEON.
Since then Cineworld, Vue and Showcase cinemas have also since joined the scheme.
Image courtesy of ThisParticularGreg via Flickr, with thanks.