Happy Mondays frontman Shaun Ryder will be joining his band mates and a host of famous pals on stage at the Manchester Palace Hotel later this month to raise funds for his sick nephew.
The fundraiser will bring together a host of Manchester legends including New Order bassist Peter Hook, Stone Roses' Mani and XFM DJ Clint Boon in a bid to drum up cash for Chico's Kickin' Cancer Fund.   
Chico, 12, from Salford, is currently undergoing treatment in Los Angeles – with dad and Happy Mondays bassist Paul Ryder – for rhabdomyosarcoma, a rare and aggressive cancer.
Shaun Ryder told MM: "Please go out and buy tickets and get yourselves along, this doesn't go in our pockets, none of us are benefiting from this, it's all for Chico.
"He lives over in the states now with his mum and dad but they have to fund everything themselves so it's been a struggle. He's doing good though, he's a strong-willed kid.
"I'm hoping he can come, we're going to see how he is but if we can get him along even for an hour we will do.
"We're going to be having a raffle and an auction to and we've got loads of great stuff that's been donated from U2 and we've got a couple of things from Liam Gallagher and Alan McGee."  
The youngster was diagnosed with inoperable rhabdomyosarcoma in 2012 and was left in a wheelchair and unable to eat for a year following harsh chemotherapy.
His family controversially used cannabis oil as part of his treatment – with the full support of his doctors in California where it is legal.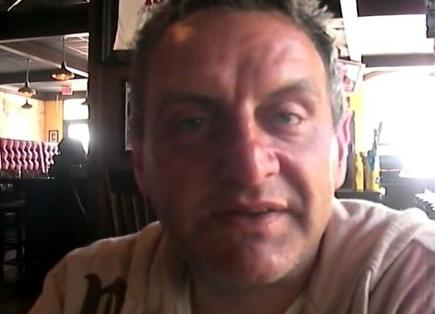 FUNDRAISING FATHER: Paul Ryder's son is suffering from rare cancer (©OffThe Menu via YouTube with thanks)
Chico is slowly recovering from the horrendous disease and is set to visit London to meet with Minister of State for Crime Prevention Norman Baker to discuss legalisation of medicinal cannabis in the UK.
The youngster and his family are now campaigning for other children with life-threatening illnesses to have legal and safe access to the drug.
Shaun said: "Chico's going to the House of Commons to visit Norman Baker MP who has spoken out about legalising cannabis for medical use in the past to fill him in about the cannabis treatment he has used.
"I think it's ridiculous that we don't use it in this country considering they treat kids over here with methadone so you know when they start coming off their treatment they then have to deal with coming off that as well."
The Happy Mondays were notorious for their drug-addled antics in their 90's heyday but the frontman, now 52, insists his partying days are over and says he plans to 'turn up, go on, enjoy it, and come home'.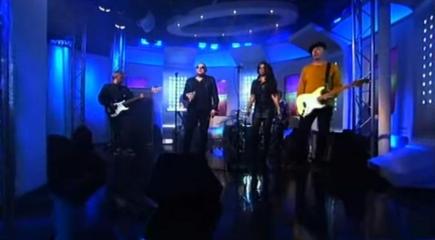 UNITED: The band will play at the Albert Hall this weekend (©ITV via YouTube with thanks)
When asked whether he'd be partying into the early hours, he said: "Give over. I don't know about Bez, you'll have to ask him. He might be 50 but he's still 18 really and still does his thing."
The Madchester legends, who reformed in 2012 with their original line-up, including Paul, Rowetta and Bez, are set to headline a sell-out Hacienda gig at the Albert Hall this weekend.
Shaun said: "Anyone who can't get tickets to the Hacienda shows, because they've all gone now, please come along to this and see our band in a totally different setting and help us raise money for Chico."
Tickets, including a four-course dinner, start at £75 and are available here. 
For more information about Chico's Kickin' Cancer Fund, visit here.
Image courtesy of ITV via YouTube with thanks