Shops selling counterfeit goods in the Strangeways area have been shut down by Manchester City Council.
The defendant in the case, Dharminder Singh Kasbia, 51, of Bury Old Road, Salford, has been ordered to pay legal costs of £11,197.50.
A Premises Closure Order was obtained to end the anti-social and criminal behaviour associated with the shops at 1-7 Harris Street.  
Officers have now secured the premises and access is prohibited, at all times and in all circumstances. 
Conservative estimates of the value of the goods seized are in the region of £2.5m (retail value), or £500,000 (street value). 
In addition to fake handbags, jewellery, trainers, sunglasses, scarves, belts, headphones and watches, officers also found 5,000 prescription drug tablets.
Some items were seized as weapons including a lump hammer, claw hammer and a modified pair of scissors.   
The order follows a raid conducted on September 11 by the council's Trading Standards team, in partnership with Greater Manchester Police (GMP).
The raid also included Immigration Enforcement officers, the council's Anti-Social Behaviour team and representatives from the Anti-Counterfeiting Group. 
Councillor Nigel Murphy, Deputy Leader of Manchester City Council, said: "Clamping down on the criminality conducted from these addresses has taken a real partnership effort." 
Graham Mogg, of the Anti-Counterfeiting Group, added: "This action should send out a message to everyone who thinks that the sale of counterfeit goods and anti-social behaviour will be tolerated."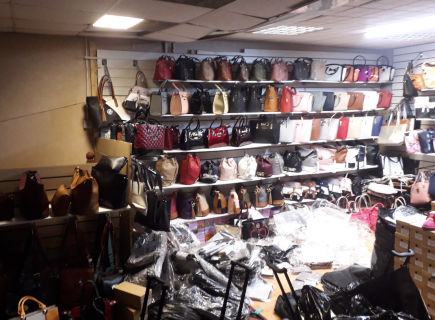 'A WARNING TO OTHERS': Manchester City Council said a real partnership effort had helped bring the illegal trading to an end
In the build up to the raid, four innocent members of the public were trapped inside the premises and had to be freed by officers from GMP.
They told officers that they were left shaken by the experience.
This is the first time that a Premises Closure Order has been used to close premises selling counterfeit goods in Manchester. 
The order was granted in Manchester and Salford Magistrates' Court on October 8 and remains in place until January 7.
Anyone entering the premises during the three-month order can be arrested.  
The initial period can be extended for a further three months, if the council and courts are not satisfied that the premises will no longer be associated with crime and disorder.
Kasbia had previously been warned to prevent his premises from being used to sell counterfeit goods, but disregarded these warnings.  
GMP Superintendent Umer Khan said: "We hope this closure acts as a warning to others that the sale of illegal goods will not be tolerated within our region."