A medical emergency response charity based at The University of Manchester has become the UK's deployment lead to global humanitarian crises, receiving an £8million grant from the Government.
The grant, which will be supplied to UK-Med over five years, is funded by The Department for International Development to help carry out support, education and training in response to crises.
Charity chairman Professor Tony Redmond OBE told MM: "The people who set up and work at UK-Med have a long experience both of working as nurses and doctors in disasters but also in preparing people and training people.
"It is important that we are part of the international community and we as countries should and could help each other if and when we can.
"In this country we are in the privileged position of being able to respond to emergencies and I believe it is our duty to help people in distress if asked and we have the skills to do so.
"Obviously, it is a great benefit for overseas but it's also a great benefit to people who work here in the UK."
The charity draw on registers of professionals, made up of people from across the UK who they can call on to respond in the crisis.
Both the health workers on the UK International Emergency Trauma Register and the new UK International Emergency Medical Register will benefit from the new grant.
After responding to the earthquake in Haiti, in which the Department for International Development funded the charity to respond, there was a big review of how Britain responds to emergencies.
Post review, the charity received start-up funding from the government for three years to expand the International Emergency Trauma Register and its training to give people experience of working and training overseas.
During the three year period, the charity responded to the typhoon in the Philippines to the war in Gaza and the Ebola outbreak using the register to draw on people.
The government viewed that it worked very well and this was a model they wanted to really strengthen with this new grant.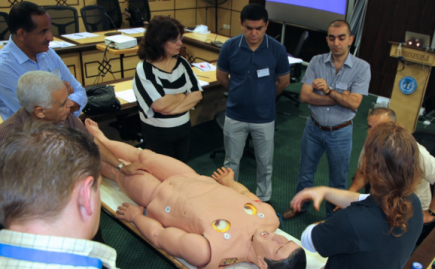 'DON'T WANT PEOPLE SAT AROUND': At UK-Med they don't just wait around for disasters but keep members' skillsets up-to-date
Professor Redmond OBE said: "You want people who are not sat around doing nothing waiting for the next disaster because they would de-skill very quickly.
"You want people who are working, doing that on an everyday basis but are available to be called on in an emergency and have been properly trained for the peculiar and difficult circumstances.
"That's the model that we've been developing over years in which they recognise there's now a model which they value."
The registers have trained hundreds of volunteers, ensuring the right mix of skills, training and experience to respond to specific international disasters.
Department for International Development Minister Desmond Swayne told MM: "UK-Med has rapidly deployed life-saving medical teams of the highest quality in response to the Ebola outbreak and in the aftermath of Typhoon Haiyan.
"The skills of these British volunteers have helped to save many lives and this new support will ensure they continue to make a difference for people in need.
"The UK is a world leader in providing humanitarian assistance and strengthening our support for UK-Med shows our commitment to remaining at the forefront of responding to emergencies overseas."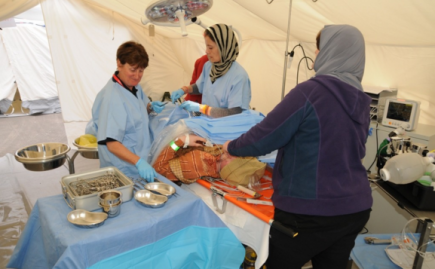 LIFE-SAVING SKILLS: Mr Swayne said the UK-Med team have saved so many with their rapid humanitarian response
UK-Med grew out of the South Manchester Rescue Team, a charity founded in the 1980s to provide support to ambulance, fire and rescue services.
Gradually over time, while responding to various crises overseas, the charity received funding from the government, the Overseas Development Administration and then the Department for International Development.
The charity then moved into national and then international responses including the earthquake in Armenia, Lockerbie air disaster, earthquake in Iran and the Kurdish refugee crisis.
Speaking to MM, Professor Redmond OBE said: "Once we started working in Bosnia we realised that the international work needed an organisation of its own.
"So we set up UK-Med as an organisation that would recruit and train people and deploy them into disasters and it's gradually grown over the years."
Professor Redmond OBE is the Professor of International Emergency Medicine at the Humanitarian and Conflict Response Institute as well as the Head of the World Health Organisation Collaborating Centre for foreign medical teams at the University of Manchester.
As well as deploying members from the register, UK-Med is staffed by academics from The University of Manchester's Humanitarian and Conflict Response Institute (HCRI).
Professor Redmond OBE added: "Those of us who set it up and continue to work in the charity, are based at the university.
"There's a natural link because it is where we work and also I am working in the Humanitarian and Conflict Response Institute which actually looks to research and teaching in the field of humanitarian response.
"The university as part of its social responsibility has offered to host us here so we are very grateful to the university for the support it gives us."
The Professor has been regularly deployed on each mission until recently when he broke his back whilst on deployment.
Professor Redmond OBE described being deployed as a 'mixed feeling'.
"You just don't know what you are going to expect, you are always a bit nervous, a bit anxious just because until you actually get to the scene and see what it's like you are not quite sure what you will be dealing with.
He described his stand out moments as being in the Philippines and Lockerbie.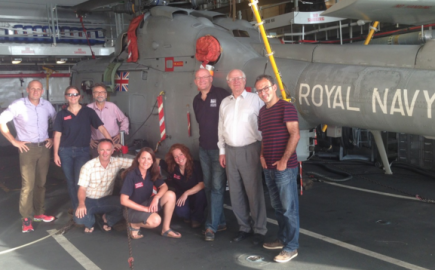 REMOTE AREAS: The UK-Med team were able to get aid to islands in the Philippines nobody else could reach thanks to the Royal Navy
Referring to the Philippines, he told MM: "We were able to take medical aid out to the remotest of islands that no other agency could get to because there happened to be a Royal Navy ship in the area at the time.
"So they took us out to very remote areas and then we could use their speed boats and their helicopter to go to incredibly remote areas.
"Going back right to the start of it, Lockerbie was the most distressing thing I think I have ever responded to and working in Sarajevo as well. We're also very proud of the work that we did in Sierra Leone in response to Ebola."
The charities principle partner at the moment is Handicap International but they have also worked very closely with other organisations including Save the Children.
 "We're very pleased with what we did in Gaza particularly working with Handicap International, an international rehabilitation NGO.
"We also work with them on the long term follow up of spinal injury patients, of people with chronic wound problems so we worked in Gaza for six months after the conflict.
"During the earthquake in Nepal last year we sent a surgical team out but also then did spinal injury and rehabilitation as well for people.
"It's not just the immediate, it's the long-term follow up as well.
"We recognised from the very early days that you should be planning the rehabilitation of patients at the time you're doing their first surgery and that's particularly important during a disaster," added Professor Redmond OBE.
The new grant will enable the charity to continue an essential part of their work in capacity building in disaster prone countries and can also help emergency responders in the UK.
Professor Redmond OBE said: "It will help to train teams within the countries themselves to respond and we can use the range of expertise we have from our members to help them strengthen their own emergency response.
"We gain huge experience that can be put to good use here within the UK because people learn to work very closely in teams; they learn to manage a whole range of conditions that they might only see once in a professional lifetime here.
"If they work overseas they will see far more of these cases and how to manage them, so when they do see it here they will already be prepared."
All images courtesy of UK-Med, with thanks.