Art lovers will have the chance to fall head over heels this Valentine's Day, as one of Manchester's favourite art galleries reopens its newly refurbished doors.
After being closed for more than a year for a £15million revamp, the Whitworth Art gallery will hold a weekend's worth of events to celebrate its reopening on Saturday February 14.
The gallery will include 10 opening exhibitions – including new commissions indoors and out – which are available to view at no cost.
The work of celebrated sculptor and installation artist Cornelia Parker will be on show, including the world-renowned 'exploding shed' (pictured below), called Cold Dark Matter: An Exploded View (1991).
Dr Maria Balshaw, Director of the Whitworth said: "We have long held the view that the gallery and the park should be a unified experience for our visitors – our new building makes this a reality.
"The opening programme captures the spirit of the Whitworth – a place where marvellous, eclectic art works connect to people and our place in Manchester."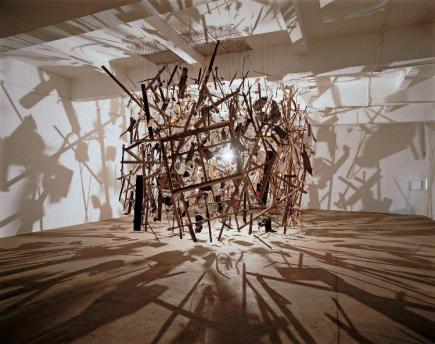 A SHED-LOAD OF EXHIBITIONS: Cornelia Parker's 'exploding shed' is just one of the world-renowned exhibits on show
A brand new commission by leading Chinese artist, Cai Guo-Qiang, will also be featured, while gallery curators give talks throughout the weekend.
The Northern Brass will stage an interactive musical experience to keep children entertained on Saturday, which will conclude with legendary Manchester DJ, Dave Haslam, taking to the decks at a free afterparty following a fire and lights show – perfect if you're a cheap date.
Sunday will be a more toned-down affair, beginning with sunrise yoga before a family-themed picnic and the premiere of Whitworth Letters by Manchester Camerata's composer-in-residence, Laura Bowler.
Founded in 1889 and now part of the University of Manchester, the Whitworth gallery has been a part of the cities culture for 125 years.
A major heritage lottery fund grant enabled the gallery to be brought up to date, with two new wings extending from the existing building which will reconnect with the surrounding Whitworth Park.
Dame Nancy Rothwell, President and Vice-Chancellor, The University of Manchester said: "The £15 million expansion of the Whitworth is a fantastic example of the University's commitment to using its knowledge and resources to engage with our local audiences and to draw people from all over the world to the University and the city."
More tickets now available for our reopening weekend After Party with @Mr_Dave_Haslam http://t.co/7SMxt5Jbyw pic.twitter.com/784ncKnJph

— the Whitworth (@WhitworthArt) January 14, 2015
​Image courtesy of the Department of Culture, with thanks.