A medical photographer has picked up a prestigious award after capturing an image of an inspiring multi-sensory invention at Central Manchester hospital which distracts anxious children undergoing serious operations.
Geraldine Thompson, who has worked for the NHS for more than 22 years, picked up one of 20 Wellcome Image awards after photographing the 'Voyager' mobile sensory unit in all its glory.
The concept provides a distraction for anxious children undergoing serious hospital procedures by incoporating a range of colours, sounds and images to aid memory stimulation and relaxation.
The clinical photographer told MM how the unit played such an important role in the hospital – the main reason she decided to capture it.
"Hospitals can be a daunting experience for a child," she said.
"The pleasure you get as a professional observing a child's face breaking out in a smile when interacting with the unit, no matter how sick they are, is immeasurable.
"Even as adults some of us are still attracted by things that glow and twinkle and this machine is no exception.
"The therapeutic and specialist play service are one of those services they use multi-sensory play as distraction therapy or to aid cognitive development or simply for relaxation."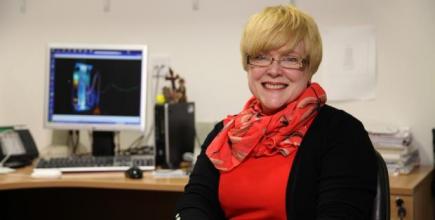 WINNER: Geraldine's photo wowed Wellcome Image judges
Geraldine, who was born and raised in Gibraltar, has been involved in photography since the age of seven after she commandeered her parents to buy her a 35mm camera.
She has picked up several awards over the many years of her career through the Institute of Medical Illustrators, but revealed she was surprised to receive the award after entering the image by chance.
"I only heard of the award within the last year, as I have always entered my own profession's awards which is the Institute of Medical Illustrators UK body awards," she said.
"I entered the final image to Wellcome's catalogue, never thinking it would be selected for anything else other than the routine contributions we make towards learning and education.
"I am extremely proud to have won and it is a privilege to be featured amongst the best of best in scientific imagery, scientists who themselves use cutting edge technologies to image."
The Wellcome Image awards showcase the best in science imaging talent and techniques and all winning entries with be showcased by the Museum of Science and Industry in Manchester on March 19.
Geraldine is also a STEM (Science, Technology, Engineering and Mathematics) Ambassador for the museum and revealed she was hoping to inspire young children to take an interest in the subjects and mould them into great minds of the future.
"We try to engage with young people and children in communities and schools by showcasing contemporary thinking, applications and careers in STEM subjects," she said.
"Science is creative thinking; the Wellcome Images exhibition is a perfect example of bringing to the public realm that which is not normally seen and elevates the ordinary to the extraordinary."
Geraldine added: "To inspire one person, one child to ask 'why?' and then they ask 'why not?' and then go on to further query, 'can I do that?', can mean that science may have won one more recruit to its ranks and hopefully they will be future Nobel prize winners!"