It seems Manchester City's title winning-triumph has picked them up an unusual new fan… the people at Legoland.
Legoland Discovery Centre Manchester have handed out their very own brand of lego themed praise for the newly-crowned champions.
The folks at Legoland have meticulously recreated the Blue's Etihad Stadium, and the side's open-top bus, which is set to embark on a victory parade around the city this evening.
The picture shows the elated champions displaying their shiny new Premiership trophy.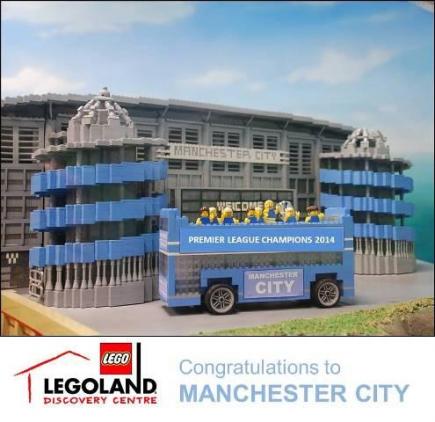 PLASTIC FANTASTIC: The Etihad and the Manchester City tour bus in bricks
The post, which was published on Legoland Discovery Centre Manchester's Facebook and Twitter pages, read: "It's a time to celebrate (for the blue half of the city).
"Congratulations to Manchester City FC on being Premier League Champions 2014."
Despite the congratulations, a Legoland spokeswoman confirmed to MM that they are not entirely united in their support of Manchester City.
"We actually have quite a few Manchester United fans here at Lego so no we can't say that," the spokeswoman said.
"We're just glad the trophy has stayed in Manchester to be honest, better here than somewhere else.
"We have several football models at the centre, so we thought it would be nice to do this to congratulate Manchester City.
"We just thought it would be a bit of fun really, it's a good day for the city and we actually get a lot of interest from football fans."