High streets! Much like boxers: the bigger they are, the harder they fall.
Data published by the Centre for Cities shows Manchester's high street ranks in the bottom five in the country in its recovery from coronavirus, receiving just 34% of the footfall it received prior to lockdown.
However, experts suggest that this is a problem typical to the high streets of major cities in the UK.
Lahari Ramuni, a researcher at the Centre for Cities, explained it wasn't a coincidence that the bottom ten high streets were dominated by big cities whilst the top ten high streets were generally based in towns.
She believes major cities tend to prioritise commercial activity over residential activity and argued jobs people undertake in the city centre tend to be work which employees can do from home.
"When you think of working in Manchester city centre, you might think of working in a law firm or an accountancy firm or a consultancy," she said.
In other words, welcoming back the office workers will also mean welcoming back a healthier economy.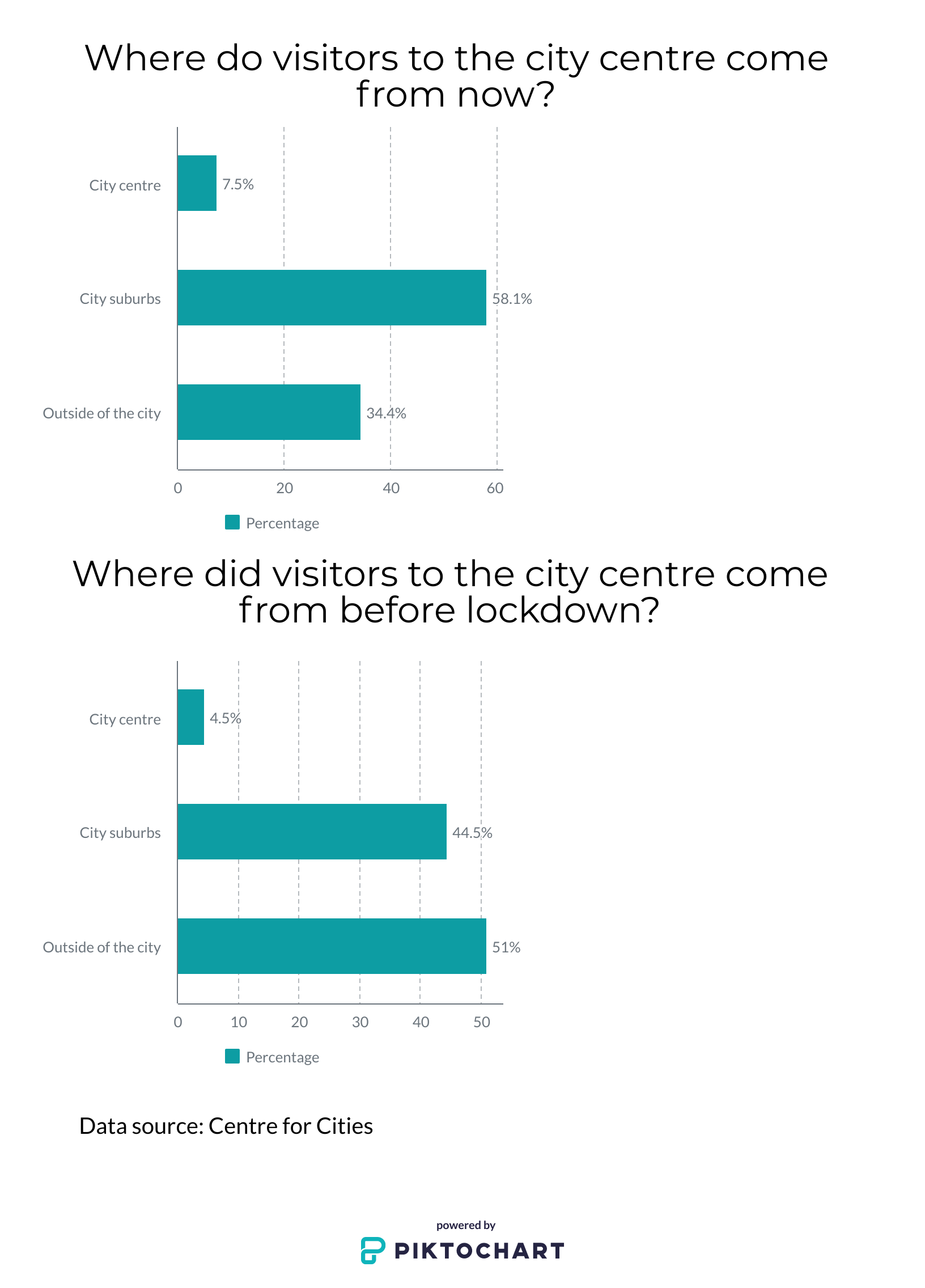 But is Manchester's struggling high street a story about its workers or about its bosses?
Head of Research at the Greater Manchester Chamber of Commerce, Subrahmaniam Krishnan Harihara, argued that Manchester is weathering the same disadvantage that many other large cities face: many of its businesses face higher operational costs.
He notes that in bigger cities, especially in terms of businesses based in the city centre, rents are much steeper and observes that many of the grants and business rates offered by the government were geared towards really small businesses rather than the sort of mid-sized business that you're more likely to find in the centre of larger cities.
"One of the things that we came across early on was hospitality businesses telling us that if the two metre social distancing rule recommended at the time were to be strictly imposed, then they wouldn't be able to serve enough customers to be able to make enough money so sustain their operations, so it was actually easier to keep the business closed," he said.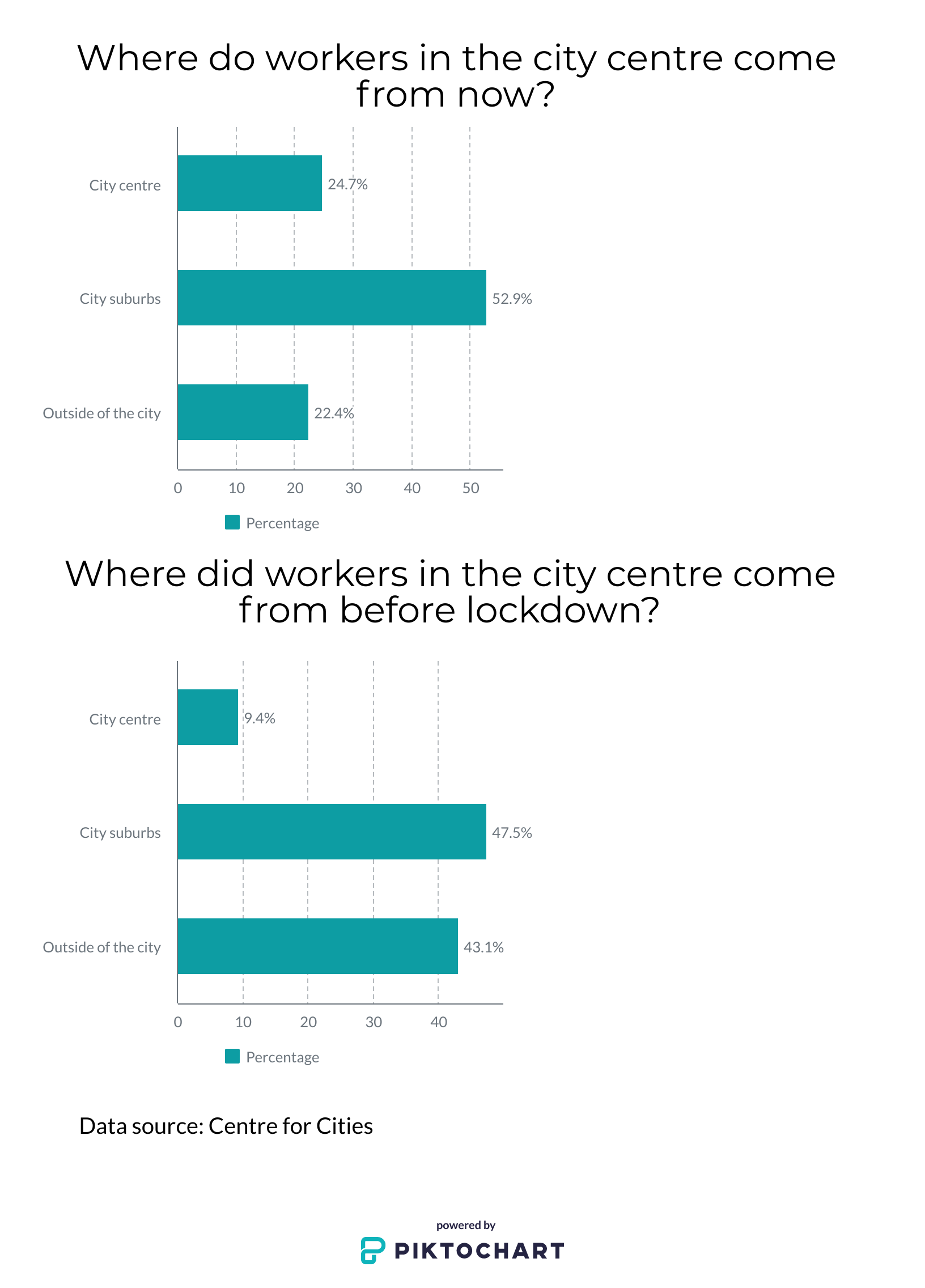 This makes sense, according to Graham Soult, a high-street guru who ITV once dubbed the North East's answer to Mary Portas. 
In fact, he believes that Manchester's struggle – and that of cities like it – are directly connected to the success of the ten high streets which had recovered most easily, thanks to what he calls the "shop local" narrative.
He said: "When you look at the top ten, all of the high streets are places which you'd probably think are some of the town centres that are most at risk.
"What we're seeing is these smaller or less glamorous centres closer to where people live are actually doing better, partly off the back of more people who live in those places working from home."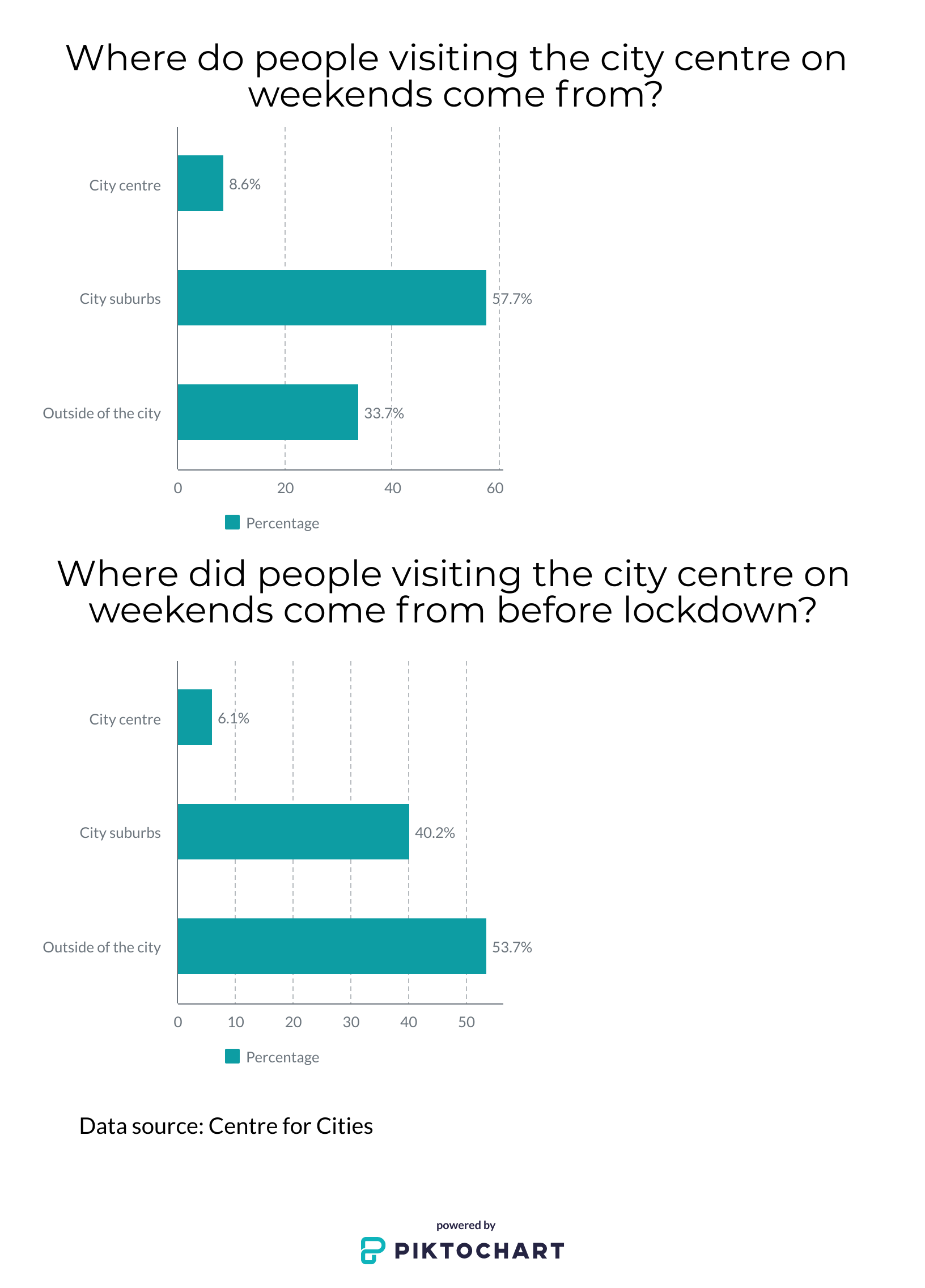 Mr Soult believes recent months have seen a shift in consumer behaviour as people try and minimise their number of trips to the shops, how far they venture from home and instead focus on getting what they need locally.
The top ten towns are all places with a sizeable residential population which are likely gaining more foot traffic as people grew less willing to travel to a nearby city to shop or go out.
But Mr Soult argues that it's not just about retail.
He notes that Manchester is a student city and the fact that many students may have left the city and returned to their home towns could be a big hit in terms of local spending and local footfall.
He also points out that Manchester would have also attracted visitors prior to lockdown as a cultural hub, with people visiting to attend a conference or to see a play. Minus live events, footfall was bound to be curtailed.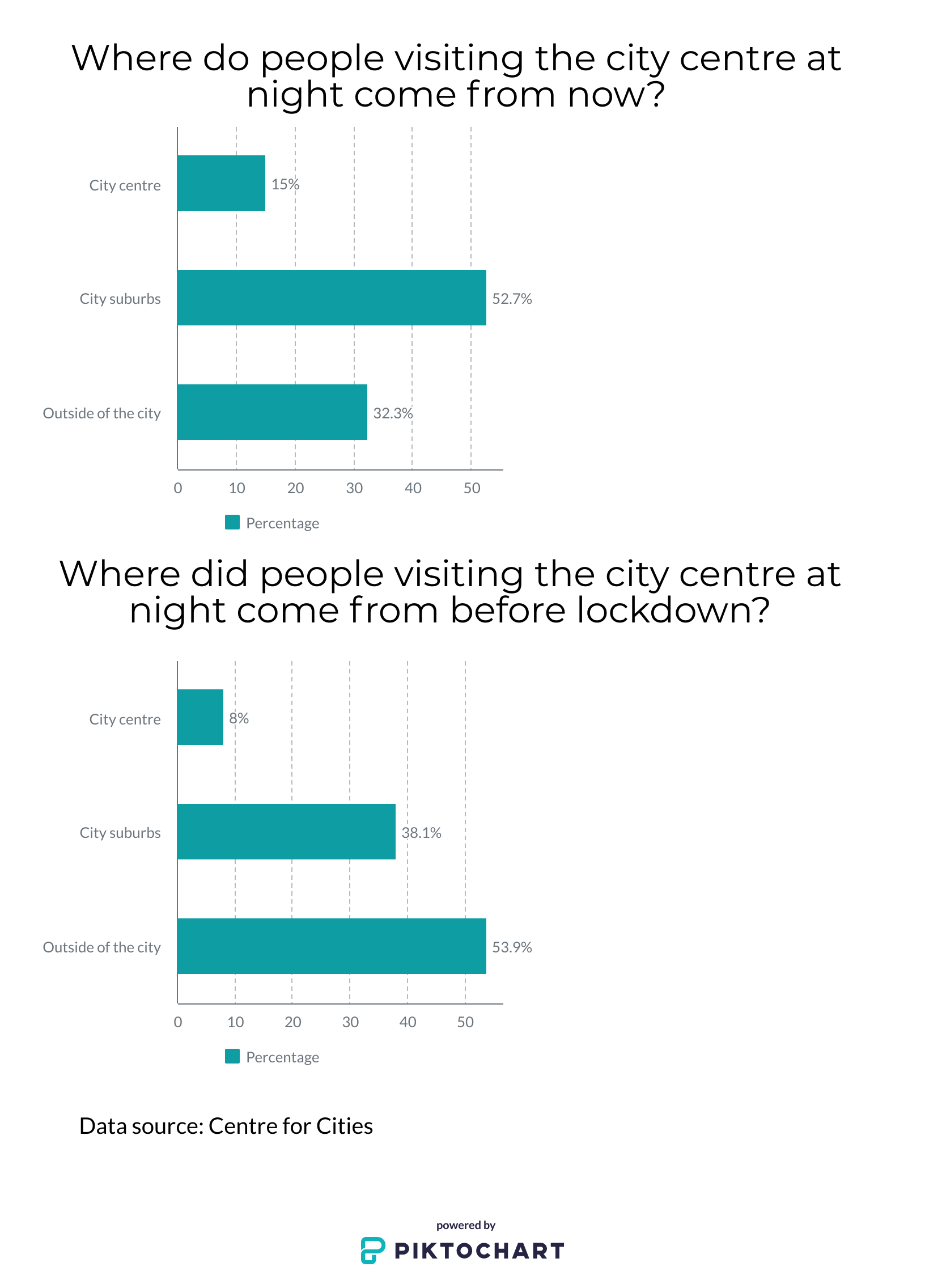 So what, if anything, can the city do to recover its visitors? 
Mr Soult believes it's all about reassuring people, making them feel safe and communicating clearly.
He argues the best strategy anyone trying to resuscitate the high street can take is to consider the various issues people might have with visiting and address them, whether it's perceptions about a place being crowded or uncertainty about how the parking works or parking issues for those eager to avoid public transport.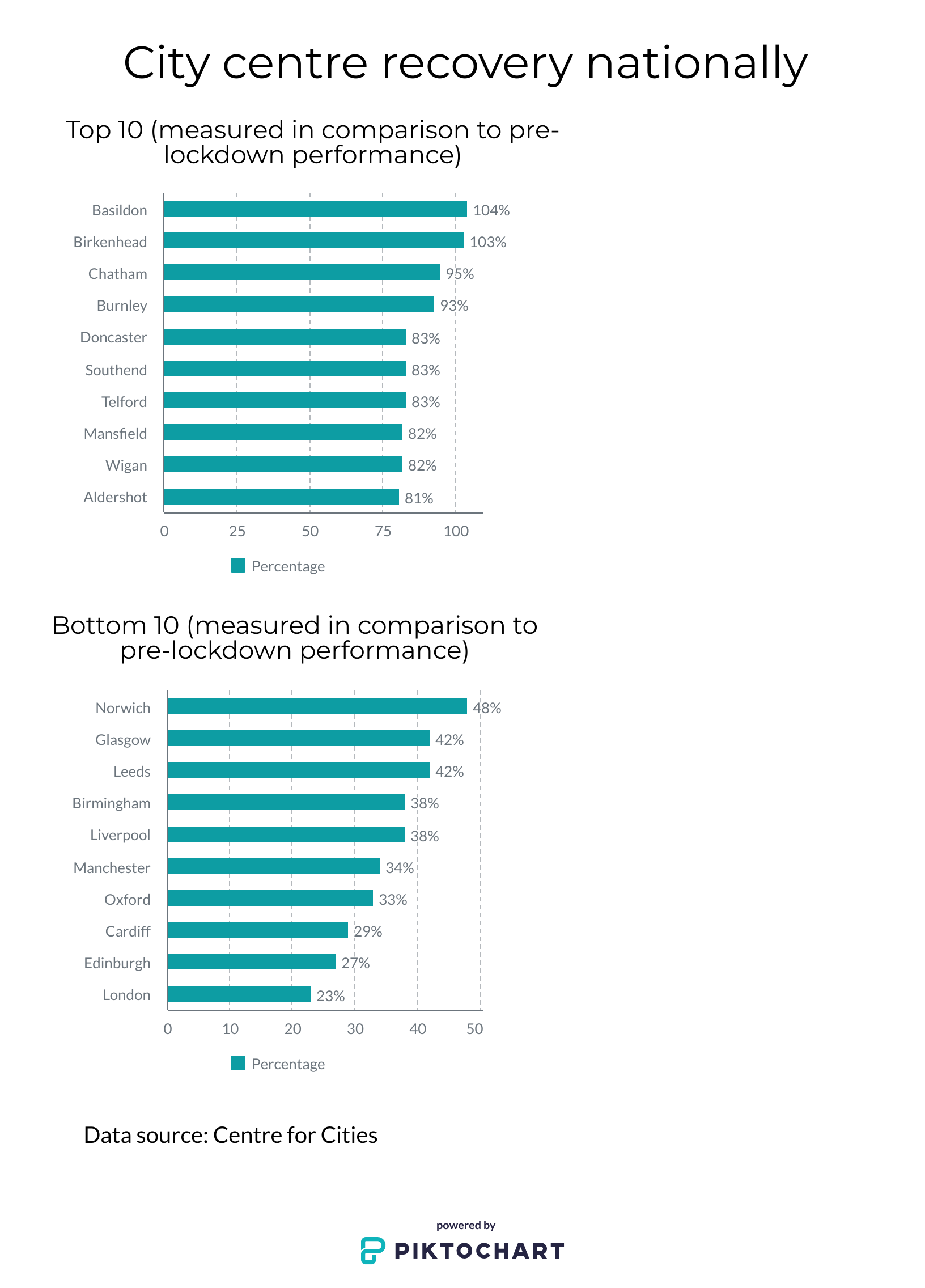 He thinks this information should be available both online, so it can be accessed ahead of the visit, and offline, citing Leamington Spa as a good example of a town which has managed to handle communications about coronavirus in a way that's both clear and stylish. 
Mr Soult notes that they have social distancing marking all through the centre in the form of flowers.
He said: "It's trying to turn something functional into something that is vaguely uplifting: you can communicate in a way that is positive and brings a bit of lightness to the experience."
Main image courtesy of Clive Varley via Flickr, with thanks.