The Building Safety Bill is currently before parliament, but do residents think it's a viable solution to the cladding crisis?
Manchester Cladiators represent nearly 2,000 affected Greater Manchester leaseholders from over 100 buildings.
MM spoke to Giles Grover, from Manchester Cladiators, about their ongoing campaign work for leaseholders in high risk buildings.
He told MM that applications for financial assistance seem to get lost in a 'black hole'. Many of the GM buildings that registered in July 2020 are still waiting to even hear if they're eligible.
Grover said: "There are a number of issues with the way the Building Safety Fund (BSF) process is being run – the Government said it learned lessons from the ACM Fund application process but we are struggling to see what they have learned."
Grover went on to explain the issues people are facing with the BSF process: "It's clear that MHCLG is struggling to keep up with the due diligence on these buildings although that is, in part, due to the onerous requirements to be eligible to apply for the BSF.
"The Government is blaming building owners / responsible entities for not having the information required but, due to the scale of this crisis and the lack of fire engineer expert assessors (as well as issues with professional indemnity insurance), there is nowhere near the actual "pace" that the Government says it is working at.
"There were 190 registrations to the BSF in GM but there is still no real visibility on how these are progressing or reasons for rejections – this is an issue across the country."
Manchester Cladiators believe that the government is scared to 'grasp the nettle' and accept the true scale of the problem due to the cost.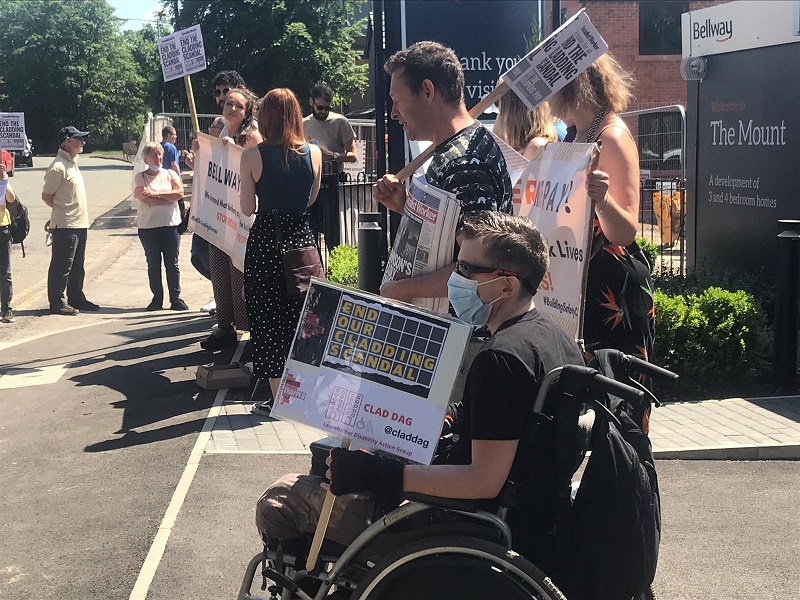 The cross-party Housing, Communities and Local Government Select Committee estimates the cost of remediating all high risk buildings is £15bn. Industry estimates, however, are much higher, and suggest the cost could be closer to £50bn.
"The essential problem is that the building regulations have been inadequate and not fit for purpose for decades. This has allowed developer and builder bad practice to perpetuate with gaming of the weak regulations that were in place – and with little oversight of what was actually built, and any changes made from the plans that were submitted," Grover concluded.
Freeholders (the building owners) have lobbied the government, too, with very little transparency.
Photos courtesy of Manchester Cladiators