PETA has dispatched hundreds of 'Kindness Kits' across the region in a desperate bid to teach kids they must have 'empathy for all beings', in the wake of the Manchester Dogs' Home fire.
The educational packs are being rushed to schools across the city following the arrest of a 15-year-old boy who is being held on suspicion of setting the fire last night, which left more than 60 dogs dead.
PETA says acts of cruelty to animals can be prevented if people are taught kindness, compassion and civil engagement from a young age.
Kirsty Henderson from PETA said: "Individuals who show disregard for others are often indiscriminate about whom they harm – adults, children or animals.
"Instilling empathy in Manchester's young people is vital in order to help them grow into ethical and non-violent adults. In fact, the safety of the whole community depends on it."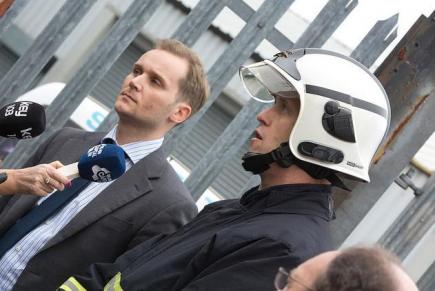 DEVASTATING: Emergency services are dealing with the aftermath of the fire
The global animal charity says the purpose of the educational packs is to help children of all ages recognise the importance of having empathy for all beings.
A 15-year-old boy has been arrested on suspicion of arson, and remains in police custody for questioning.
More than 30 firefighters and members of the public battled the blaze to save the animals trapped inside the burning building on Moss Bank Road in Harpurhey last night.
Cheshire Dogs' Home, in Warrington, has taken in 150 dogs, and huge numbers have offered their support.
A Just Giving page set up for the home has raised around £800,000.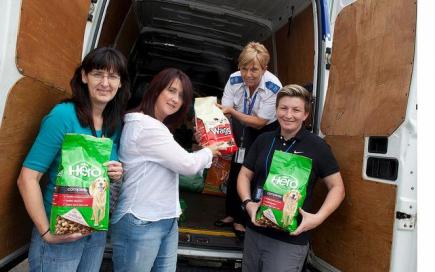 PULLING TOGETHER: The community have come in force to help
Manchester Dogs' Home also accommodates stray dogs found by Oldham Council's dog warden service.
Councillor Norman Briggs, who has a background in Animal Welfare, said: "The blaze at Manchester Dogs' Home is devastating and the community response from across the region has been amazing.
"We've been in contact with the Dogs Home and other organisations to offer assistance where we can."
For more information about the link between cruelty to animals and violence towards humans or to order a free education pack, click here.