A study has found 65 per cent of adults in the North West are motivated to make healthier lifestyle changes due to Coronavirus.
The survey conducted by Public Health England found 78 per cent of adults have made the decision to change their lifestyle in the new year, which is up by 38 per cent compared to last year.
The results show that people in the North West are looking to eat more healthily, lose weight and exercise more .
Manchester restaurant owner Vidya, 46, said: "When the lockdown was announced, the uncertainty around my restaurant business and not being able to do exercise as easily resulted in me putting on weight.
"I have never done a 5k, so this will be a big challenge for me next year – I am looking forward to keeping myself on a healthy path."
Public Health England have launched a new 'Better Health new year' campaign to encourage people in the region to improve their lifestyle and mental health.
The campaign offers a range of tools and apps which give regular support to those who are wanting to make some changes in the new year.
Dr Rebecca Wagstaff, Public Health England's Deputy Director of Health and Wellbeing in the North West, said: "It's encouraging to hear so many people are motivated to make positive changes to their lifestyle in 2021 and I urge as many people as possible to do the same.
"It's never been more important to look after yourself."
Health and fitness has never been more important as evidence shows that being obese significantly increases your chance of being admitted to intensive care with COVID-19.
Tony, 47, from Cheshire, started using the Better Health support in 2020 and has lost three stone to date.
He was hospitalised with COVID last year and believes his weight loss has contributed to his recovery.
"I remember after being in hospital for a few days thinking, if I hadn't had done what I'd done I wouldn't have made it through.
"Being fitter and healthier has just opened so many more doors for me."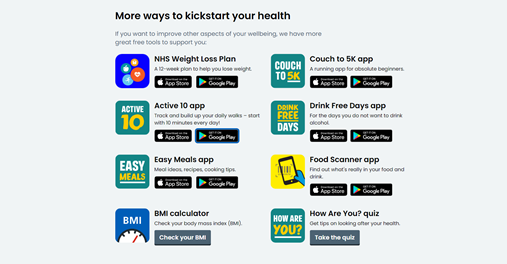 The campaign provides free resources to help people increase their physical activity, make healthier food choices, lose weight and quit smoking
You can see the support and advice on offer via the NHS Better Health website here.