Screaming female Drake fans flashed their underwear and hurled bras at the singer as he performed at the Phones4U Arena in Manchester last night.
And it wasn't just Mancunians showing their devotion with global pop princess Rihanna playing the role of doting girlfriend as she was spotted watching the Do You Want A Tour? tour from the sound desk for a ninth consecutive show.
The Barbadian beauty looked stunning in an understated black slip dress paired with diamond stud earrings, delicate gold chains and a matching bangle.
Rihanna spotted at Drake's concert in Manchester tonight. pic.twitter.com/NcaHXiq8HK

— Rihanna Daily (@RihannaDaily) March 13, 2014
Performing the second of his sold-out tours at the arena in front of thousands of fans the Canadian rap star delighted one lucky fan by plucking her from the crowd and serenading her with an acapella sample of smash hit Hold On, We're Going Home.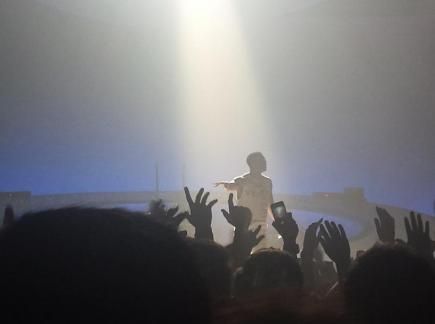 SOLD OUT: Drake performs to the packed-out arena
Not content with dedicating the song to the thrilled blonde he also held her hand quipping that he had 'used extra hand lotion just for her', draped his arm around her and kissed her delicately on each cheek.
But as the few thousand other ladies present sighed into their drinks the Started From The Bottom singer turned his attentions to them ensuring no-one felt left out.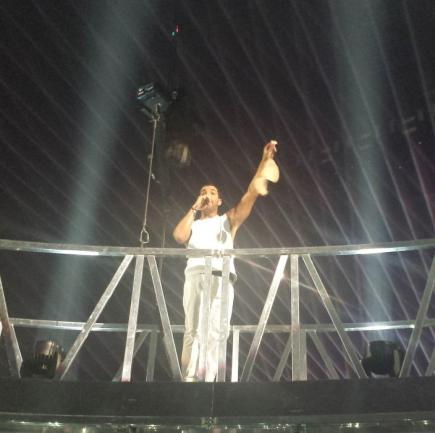 IS THIS YOURS? Drake holds up a bra that was thrown on the stage
After performing 305 To My City on a floating stage above the audience he strutted around the circular structure rapping about audience members who screamed and waved as he passed by.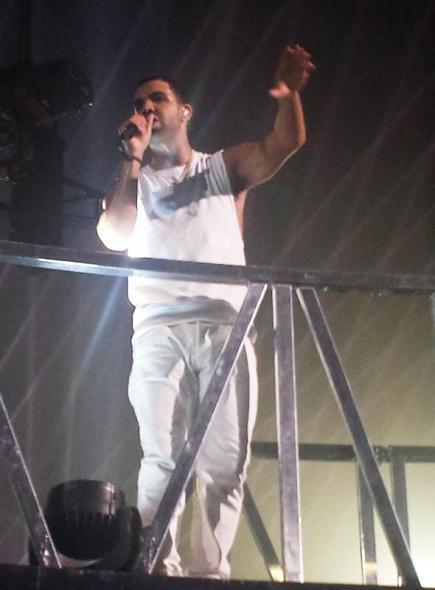 STARTED FROM THE BOTTOM: Drake shows how far he's come
But it wasn't just the ladies or 'baby girls' who captured the star's attention with a few shout outs going to male fans including die-hard fan Danny who was pressed up against the front barrier.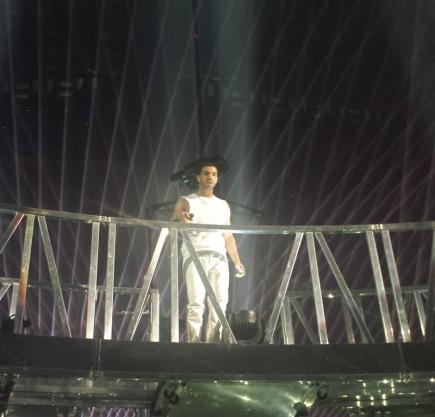 HIGH AND MIGHTY: Canadian rapper surveys the crowds
He was singled out and praised by Drake for rapping all the way through speedy rap The Motto and had a camera trained on him during All Me as he continued to rap along.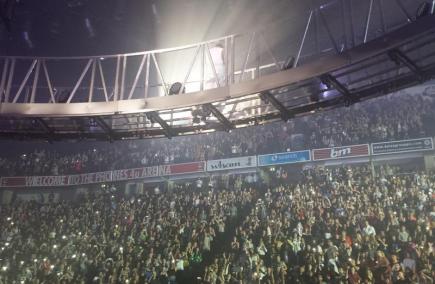 DEDICATION: The 27-year-old lavished attention on his fans
Featured image courtesy of OVO Sound Young Money Cash Money Republic via YouTube, with thanks