Is your child moody or aggressive? Are they staying out late drinking and taking goodness knows what else? Have they been skipping school or letting their grades slip?
So many parents across Manchester, and indeed the world, can answer 'yes' to one or more of these questions.
And, for the most part, the reason behind it will be that rebellious phase we all went through at some point.
But for some, these could be indicators of something much more serious and much more terrifying – child sexual exploitation (CSE).
It may sound shocking but that is exactly why parents across the city are being offered the chance to learn first-hand how to spot the warning signs that their children may be in danger of being sexually exploited.
Parent's Awareness Day, organised by GMP's Project Phoenix, will host a variety of education and awareness events across the region today.
Project Phoenix Manager Damian Dallimore said: "Two months ago the government declared child sexual exploitation a national threat. But it's still a subject that most people know very little about.
"We're keen to show parents how to spot the signs that their son or daughter might be in danger of being exploited – whether it's online or out with their friends.
"The best weapon we have as parents and carers is the ability to recognise that something isn't right and know what to do about it.
"We're very lucky in Greater Manchester in that we have a single, unified approach to tackling child sexual exploitation across local authorities, police, NHS and charities.
"This awareness day is about using that expertise to help the region's mums and dads to better understand how to protect their children."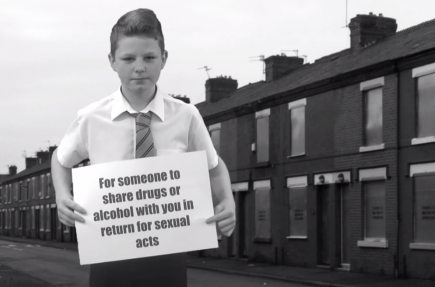 WARNING SIGNS: Parents must be vigilant to protect their kids from CSE
Parents and carers will also be able to join a webchat where they can speak online with a mother whose daughter was groomed for CSE.
Another parent (not taking part in the online discussion) Anne, whose daughter Elizabeth was groomed and raped when she was just 14, wanted to share her experience with other mums and dads.
She said: "My daughter was a really well-behaved girl. We had a fantastic mother-daughter relationship. There was nothing to suggest that she would be in any danger. 
"My message to parents is to never be complacent about what your children are doing online or who they are meeting when they go out.
"My daughter was not groomed by an Asian gang – it was a combination of young people around her own age and adults that manipulated them. It can happen to anyone."
Parents will be able to speak anonymously to the mum, whose daughter was groomed by an older 'friend', in an online Q&A session at 5:30pm at www.itsnotokay.co.uk.
The mother will discuss what happened to her child, the signs that something was wrong and the support she received to help them both recover.
Parents can view key moments on Twitter by following @NotOkayGM, searching for the hashtag #itsnotokay or visiting the Facebook page.
An interactive session, using smartphones and tablets to learn how to protect kids on the internet, will be hosted at the Arndale Centre between 10am-4pm.
The event invites parents to learn how to keep their child safe through modern technology and apps.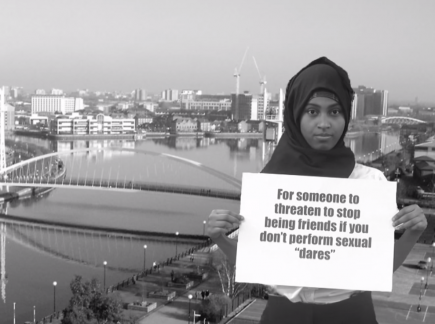 IT'S NOT OKAY: Children can be sexually exploited by strangers or 'friends'
Help will be on hand from experts from GMP, The Children's Society and Parents Against Child Sexual Exploitation (Pace).
Police and Crime Commissioner Tony Lloyd said: "It's so important that mums, dads and carers understand what child sexual exploitation so they can recognise the signs and get help if they are worried.
"It's not always easy to know what our children get up to, or if anything is wrong, but there are tell-tale signs that could indicate your child is being sexually exploited.
"Help and support is out there and I want every parent and carer in Greater Manchester to know where they can get it."
Signs for parents to look out for:
Bruising on their arms or body
Regularly using drugs or drinking alcohol
Mood swings, aggression towards others
Truancy or a drop in performance at school
Self-harm – e.g. cutting or eating disorders
Change in appearance, or borrowing clothes from others
Always tired
Unexplained relationships with older people
Staying out late, not returning home
Unexplained gifts, expensive clothes, mobile phones
Unexplained money, frequently taking part in activities requiring money
Project Phoenix is a multi-agency response to CSE across the whole of Greater Manchester.
Paul Maher, Greater Manchester programme manager for The Children's Society, which supports children at risk of CSE said: "While everyone in society should look out for any signs that a child is being groomed, parents are well placed to spot any changes in their children that might give cause for concern.
"Vigilance about what children are doing on the internet and on social media is now a really important part of this.
"But above all, it's really important for parents to talk to and listen to their children, but anyone with an immediate concern for a child's safety or who is concerned that they are missing should not hesitate to call police."
For information for children, young people, parents, carers and professionals on how to spot the signs of child sex exploitation and what to do about it, please click here. 
The names of Anne and her daughter Elizabeth have been changed to protect the identities of those involved.