Former Manchester City favourite Andy Hinchcliffe is coming out of retirement to join the team of volunteers at St Ann's Hospice as their latest summer signing.
The 46-year-old, who played for Man City 134 over three seasons and now lives in Brooklands, Sale, relied on the charity when his late mum, Pat, was being cared for at a hospice 27 years ago.
Andy's first experience of the charity was so emotional, he described the whole period as a 'blur'.
He said: "It was such a long time ago that I first visited St Ann's and as you can imagine it was a blur because of my mum's horrible disease."
However, hoping to form a more positive association with the charity, Andy has made a poignant return, volunteering with a local hospice to give back to the organization that supported his family during his mother's illness.
At the time of his mother's death Andy was at the start of his football career with City – he explained how the loss had a huge impact on him.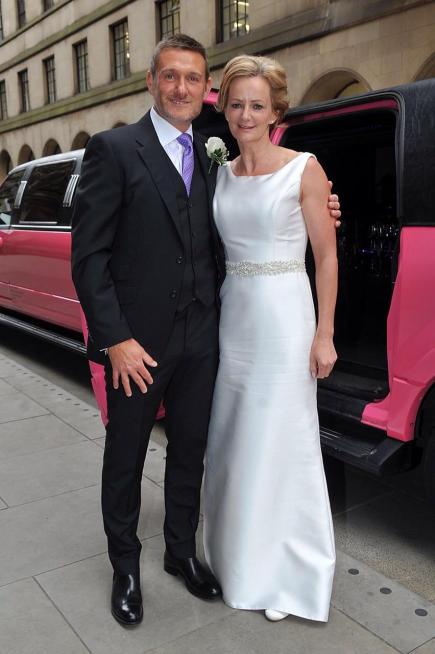 RELATIONSHIP GOALS: Andy and Nicky asked their wedding guests to donate to St Ann's Hospice instead of getting gifts
He said: "My career at City was just getting going in 1988 when my mum had a really difficult time with her illness.
"We were very close and it was devastating to lose her. She was such a lovely lady, very active and full of life."
In spite of his grief, Andy went on to have a very successful sporting career, winning seven England caps and playing for City, Sheffield Wednesday and Everton, with whom he won the FA Cup in 1995. 
After retiring from football in 2002, he went on to pursue a career in broadcasting with Key 103 and BBC Manchester.
Now working on Sky Sports as a summarizer, Andy explained that despite the difficult memories returning to the hospice as a volunteer was something he felt relatively at ease with.
He said: "In some ways it's quite strange going back, but it also seemed the natural thing to do".
The ex Man City defender's mum is not the only link Andy has with the charity as his wife, Nicky Dutson, has been volunteering with them for five years.
She helped to get Andy involved and he now helps out on the wards in the Heald Green hospice.
His position involves many different roles including 'serving drinks, tidying up' and generally helping out with whatever needs to be done.
The generous pair also helped raise money for the charity by asking friends and family to make donations instead of buying presents for their wedding earlier this year.
They now both enjoy being actively involved with the admirable work the charity does.
Andy said: "The hospice is such an inspiring place and touches families with the wonderful care it provides."