Manchester is to receive a tree that symbolises 'strength and resilience' in the face of terrorism.
The New York-based National September 11 Memorial & Museum are gifting the emblem – a Callery pear tree – following the attack at Manchester Arena on May 22.
It is a seedling from the 'Survivor Tree', the plant which astonishingly lived through the attacks on the Twin Towers in 2001.
The original tree was almost destroyed when the sky-scrapers collapsed but managed to survive through time and care.
It's since become a beacon of hope that terrorism will never triumph.
Speaking about the heartfelt offering, Manchester City Council Sir Richard Leese said he hoped it will lead to increased unity between Manchester and the rest of the world.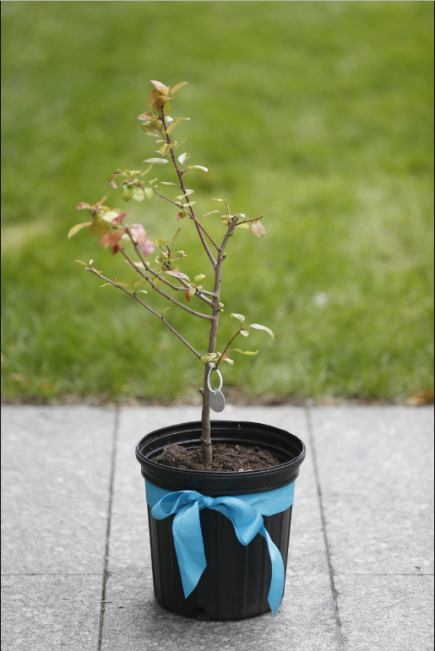 GIFT: The seedling will be planted at a permanent memorial
He explained: "It's an honour to accept this tribute from the National September 11 Memorial & Museum and a beautiful reminder of the outpouring of support we received from around the world following the terrible events of May 22.
"The thing that unites all the locations that have received seedlings from the Survivor Tree is not terror but our shared solidarity, courage and resilience. 
"As the seedling flourishes into a tree I hope that it will come to encompass our shared values and show that we are strongest when we stand together."
To date, seedling trees have been offered to 12 different communities that have demonstrated resilience in the face of adversity.
Previous recipients include Orlando, Florida following the Pulse Nightclub massacre, and France following the atrocities in Paris and Nice.
A council advisory group are still deciding where the Survivor Tree will be homed as it moves forward with plans for a permanent memorial to remember the attack at Manchester Arena.  
National September 11 Memorial & Museum President Alice M. Greenwald said: "The Survivor Tree embodies the strength and resilience demonstrated by our nation after the September 11, 2001 attacks.
"The seedlings distributed through this annual program provide hope and the promise of renewal to communities that have endured unimaginable hardship and suffering like Manchester, Charleston and Haiti."
In May, 22 people lost their lives when an explosion tore through the Manchester Arena following a concert by Ariana Grande.
The bomber was later revealed to be 22-year-old Salman Abedi, a former student at Salford University.