Viv Anderson stands as a 'Radical Hero' and shares his life experiences, challenges with racial discrimination, and stories of how he overcame it.
Mr Anderson made history when he became the first black man to represent England in a full international game against Czechoslovakia in 1978.
He entered the sport when racism in football was vicious and, when faced with that challenge personally, when fruit was hurled at him in a league game against Carlisle in the mid-70s, he was spurred on to stand up against it.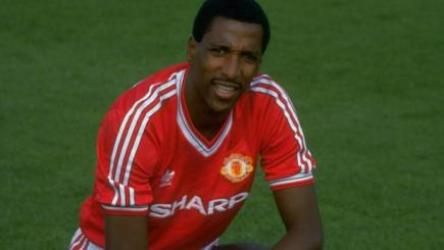 FIRST SIR ALEX SIGNING: Viv Anderson in Manchester United colours
He told MM: "First and foremost, my manager at the time made me go back out there.
"Afterwards, he said 'if you're going to let people like that influence you and what you want to do, you're not going to make yourself a career in football', which I wanted to do, so I took on board what he said and I took that throughout my career.
"It was always about the football and I let my football do the talking."
Mr Anderson, who has been selected from People's History Museum's (PHM) list of 100 Radical Heroes, has played for teams such as Nottingham Forest, Arsenal and Manchester United
He was awarded an MBE in January 2000 for his services to football.
The museum's list, according to Catherine O'Donnell, Engagement and Events Officer at PHM, includes those who have 'made a real impact in society and made a real difference to people's lives'.
Mr Anderson will speak in a Q&A event at PHM on Thursday October 15, hosted by Rodney Hinds, Sports Editor at The Voice newspaper.
Mr Anderson said: "They asked me if I would come along and do a Q&A for the audience, so it's a good opportunity to promote Black Month.
"I think it is about inspiring this generation. It's about my journey to get where I got to and where I am now, and hopefully it inspires people to do the same – to regard sport in that respect."
Mr Anderson's football shirt from his debut match in 1978 was put on display at the museum earlier this year.
Other key figures from the list are featuring in a series of blog posts throughout the month, with contributions made by museum staff.
We are so happy that Viv Anderson is one of our Radical Heroes, and even happier that he'll be here on Thursday! pic.twitter.com/uZhUeYLezN

— People's History Mus (@PHMMcr) October 9, 2015
PHM, which is holding three events for Black History Month, expects the Q&A to be the most popular, with at least 100 people attending the event.
Ms O'Donnell said: "[Viv] is somebody who is really inspiring and it will be great to find out more about his story."
When asked why he felt it important to continue marking Black History Month, Mr Anderson said: "I think we still have a lot to learn.
"I think we have a lot of black faces playing up and down the country in all of the leagues now, but I think the next stage is to have black managers."
"Black players can achieve better things than just being a player. I think it's important to bring out these issues, and hopefully we will do that on the 15th."
Mr Hinds, who is hosting the event, will engage in the Q&A discussion with Mr Anderson before the conversation is opened up for the audience to ask their own questions.
Ms O'Donnell said: "Black History, and stories of people who might have been oppressed and hidden from history, is something that is embedded throughout the museum.
"There isn't a separate section about black history; it's something that runs as a vibe throughout the museum's galleries.
"You will see black people's stories embedded within the story of ideas worth fighting for, and the fight for democracy. There's lots of inspiring people and we are highlighting them in our Black Radical season."
There are also two smaller events taking place at the museum; these performances are based on two living history characters.
The first play, centred on William Cuffay, a black Chartist leader, discusses the effect of slavery on the Industrial Revolution and Manchester.
The second, No Bed of Roses, uses the figure of Gabrielle to represent the stories of three Mancunian women who moved to the UK from the Caribbean in the 1950s amidst a climate of racial tension.
Ms O'Donnell said: "I think [black history] is something that is really important and there are lots of venues across Greater Manchester celebrating BHM.
"Personally, I think black history should be celebrated all year round, but it is good to have a festival that gives people an excuse to do that really visibly."
People's History Museum has partnered with Football Association (FA), who sponsors Mr Anderson, and Manchester County FA.
To book for Thursday's event from 7:00pm – 9:00pm, make a £5 suggested donation here.
Images courtesy of the FA, with thanks.