A staggering decline in the number of avoidable deaths from cardiovascular disease across Greater Manchester has been revealed in a recent Office of National Statistics (ONS) report.
While this may appear promising, the figures are still shockingly high across all ten boroughs and health chiefs have warned the region that 'the fight is far from over'.
Avoidable mortality accounts for death which could have been stopped with adequate disease prevention and therapy, usually caused by heart diseasem unhealthy lifestyle, drugs or injuries.
The ONS statistics show there are drastically varied results across Greater Manchester's boroughs and between male and female.
The chart below shows that Central Manchester had the highest avoidable mortality rate in both men and women in recent years.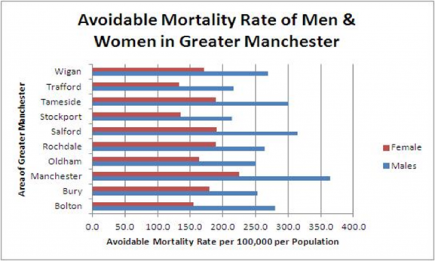 This can be put down to the size of central Manchester's population in comparison to other boroughs.
However, results show that Salford and Tameside are not too far behind in male mortality rates, both reaching a rate of 300 per 100,000 deaths per population.
Furthermore Tameside, Salford, Rochdale and Bury are all very close to the mortality rate of women in the city centre – 224.8 – even with the population differences.
The two Greater Manchester boroughs with the lowest male and female mortality rates were Trafford and Stockport.
Bolton has some of the most polarised results, with the third lowest avoidable mortality rate in women but the fourth highest in men.
One thing a low rate of avoidable deaths indicates is that certain boroughs have better standards of care than others.
The charts above show how boroughs of Greater Manchester have fared in regards to reductions or increases in avoidable mortality rates between 2003-2012.
Preventable deaths from cardiovascular disease (CVD) have on the whole decreased amongst men and women by an average of 30-40%.
Wigan, for instance, saw a reduction from 252 to 198 in men and 130 to 75 in women – a drop of 42%.
Huge declines in CVD have been seen in Stockport and Rochdale. Since 2003, Stockport has seen a reduction of 48% both in male and female avoidable deaths – the biggest fall in all Greater Manchester.
Rochdale saw a massive drop of 55% in male deaths from CVDs and 42% in women.
Maureen Talbot, Senior Nurse at The British Heart Foundation, told MM: "These figures are a testament just how far we've come in the way we prevent and treat CVD.
"But the fight is not over yet. Although great progress has been made, CVD is still one of the UK's biggest killers claiming hundreds of lives each year in Manchester alone. What makes this so tragic is that the majority of heart and circulatory conditions, including coronary heart disease and stroke, are largely preventable."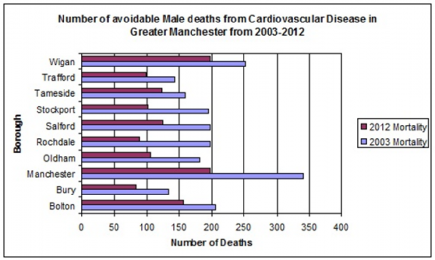 The total fall in both male and female CVD for Greater Manchester was 36% and 40% respectively.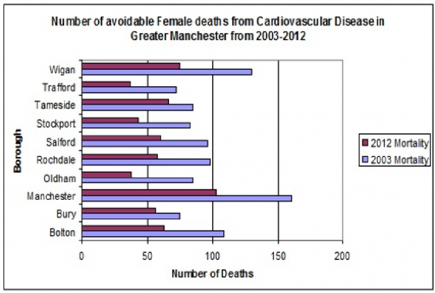 However the numbers do not tell the whole story as certain boroughs have seen much smaller decreases in deaths from heart disease.
Bolton, Tameside and Wigan experienced drops in male CVD deaths well below the average – each saw reductions of only 24, 23 and 21% respectively.
Tameside saw the smallest decrease in female mortality from heart disease – 22% compared to the county's average of 40%.
To avoid CVD, Nurse Talbot said: "Following a healthy diet, keeping physically active, stopping smoking and maintaining healthy blood pressure and cholesterol levels can all help reduce your chance of developing CVD. If you're over 40 you can also visit your GP for your free NHS health check."
Main image courtesy of Lauren Waye, with thanks.