A University of Manchester professor has worked alongside volcano enthusiasts to produce a list of the ten most dangerous active volcanoes in the world.
The list is based on which volcanoes are most likely to erupt over the next century, and aims to raise awareness of the need to monitor such sites, to give those who live close to them warning if the worst should happen.
If the most dangerous sites should explode, more than one million people could lose their lives.
And it is for this reason that Professor Albert Zijlstra has called for 'better preparedness' – something which he hopes his list can encourage.
"There are parts of the world where monitoring of volcanoes is very poor, and many of these poorly watched volcanoes are close to populated areas," he said.
"The last time such a list was made was 25 years ago and that list mainly included volcanoes that are accessible to study in developed countries.
"Our new list looks all over the world, including in less developed countries.
"We have created this list to try to highlight the need for better monitoring and preparedness in many areas of the world.
"There hasn't been a major eruption for 200 years, since Tambora in 1815, and there has never been a large eruption in a modern, developed country. 
"There is a chance of perhaps one in three that there will be such an eruption this century."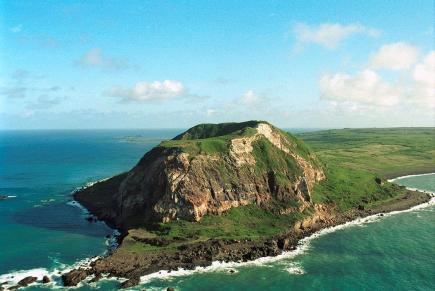 MOST DANGEROUS: Iwo Jima claimed many lives in WW2, but an explosion from its volcano could claim over a million lives
Topping the list is Iwo Jima – the Japanese island made infamous during the USA's Pacific campaign in World War II, something which is portrayed in The Pacific, the HBO miniseries released in 2010.
Volcanic activity on the island has caused the beach on which the Americans landed to be raised by 17 metres since 1945, and a large scale eruption could cause a major tsunami that would devastate Southern Japan and the Eastern Chinese coast, upon which Hong Kong and Shanghai are based.
Other volcanoes on the list are found across the globe, including Campei Flegrei near Naples in Italy, which has the potential to cause even more destruction than the infamous Mount Vesuvius did on the same region.
Former Swedish Army Major Henrik Lovën helps to run Volcano Café – the website on which the list is to be published – and hopes that the list will raise much-needed awareness.
"We want to raise awareness that there are many volcanoes that could erupt and that are not being monitored properly," he said.
"Hopefully the people who live near the volcanoes in this list will get more help to help them prepare for an eruption."
The full list, in order of potential destruction, is as follows:
Iwo Jima, Japan 
Chiltepe/Apoyeque, Nicaragua
Campei Flegrei, Italy
Mount Aso, Japan
Trans Mexico Volcanic Belt, Mexico
Gunung Agung, Indonesia
Mount Cameroon (or Mongo ma Ndemi), Cameroon
Taal, Philippines
Mayon, Philippines
Gunung Kelud, Indonesia
To find out more, click here.
Image courtesy of G E Ulrich, via Wikipedia, with thanks