A tribe of kick-ass women empowered, inspired and connected with one another as a nod to the 20th anniversary of National Stress Awareness Day.
The first national Girl Tribe Gang conference saw inspiring women from across the country take to the stage to empower women in business, as well as those aspiring to escape the drudgery of a 9-5 shift.
Discussions and masterclasses offered insight into key areas of business and visibility, such as 'Nailing Your Brand,' 'Preventing Burn Out,' 'Up Levelling your Business with Effective PR,' and 'Building Resilience.'
The event took place at Etc Venues in the city centre where names such as Psychologies Magazine's Mind Editor, Suzy Reading, the founder of the Northern Blog Awards, Holly Wood, and Carole Spiers, founder of November's National Stress Awareness Day, shared their life and business journeys as well as their knowledge.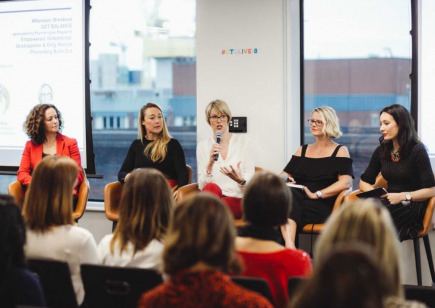 The all-day affair included refreshments, cocktail reception and buffet-style lunch, and there was even a 'me-time' Lounge where women could pop into throughout the day for hair and beauty treatments.
Timed to coincide with the 20th anniversary of National Stress Awareness Week, the theme #fiercelybrave encouraged women to find the courage to be their true selves.
This comes after they found in their in-house survey that 40% of women said that they felt isolated and lonely working for themselves, which causes them stress.
Founder of Girl Tribe Gang, Catherine Asia Labbett (main picture, right), said: "The whole day went by in a flash and I was completely immersed in the energy that was buzzing around the venue.
"For me, GTGLIVE18 was a platform to start a conversation about and to champion the huge hidden workforce of women who aren't on anyone's radar and I feel that we have really done this and opened a space for these discussions to start happening."
FINDING 'MY TRIBE'
Girl Tribe Gang's story began in 2014 when heavily pregnant Labbett decided to create a collective for like-minded women who had either ventured out on their own or were dreaming of one day being able to quit the 9-5.
"I wanted to, and so desperately needed to find my Tribe and, most of all, I wanted to try and reduce that isolation and loneliness I was feeling and bring some fun and friendships into this new world of mine – a world that nobody else really understood.
"I thought that if Girl Tribe Gang could help to reduce even a tiny bit of that isolation other women have got to be feeling, well then that's going to have a positive effect on their overall health, emotional well-being and success too."
To join in the conversation about stress and mental health for women working for themselves, visit: