City-wide sex appeal is under threat as the Manchester accent officially ranked third least attractive in the British Isles, according to data collection buffs YouGov.
British adults were asked to score the attractiveness or unattractiveness of the 12 main accents, revealing some clear winners and losers.
Brummies lost the battle for the nation's hearts, while Liverpool's Scouse accent proved almost equally repellent, claiming second lowest.
In a surprise to no one the Southern Irish accent was the best to have in a flirtatious exchange, pipping the other contenders to the top spot.  
Received Pronunciation or 'BBC English', the standard 'non-accent' of mainly Southern Britain, ranked second and the delightfully disarming tones of Wales came third.
The map below can be explored for the full results.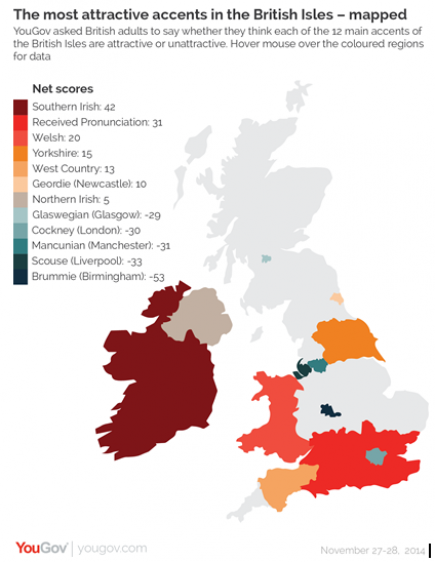 The attractiveness and social class of each accent can generally be measured by its strength – Dr Rob Drummond, Linguistics professor at MMU shed light on this ugly truth.
He said: "Stronger regional actions are seen as a lower social class – that's a linguistic fact. The lower down the social scale you go the stronger the accent, wherever you are.
"If you're in Manchester the people with the strongest Manchester accent will be working class Mancunians and the higher up the social scale you go generally the less strong the accent is."
There were vast differences in attractiveness of accents by age – 63% of over-60s get hot under the collar for a West County accent compared to 22% of 18-24-year-olds.
The Northern Irish suffer the opposite perception, with 54% of 18-24 year-olds seeing it as attractive compared to only 37% of over-60s.
YouGov also discovered unearned features, such as accents, still have an impact on success, in employment, social life and elsewhere.
The recent study corroborates one MM covered in 2013.
However, in October a separate survey found women voted Manchester mens' accents the MOST attractive.
Image of Aonghas Tree, with thanks.