In the weeks running up to this very wet and windy General Election, Bolton North-East was listed as one of the too-close-to-call seats that might ultimately swing the national result.
David Crausby has headed the roost since 1997, and he spent the tense hours leading up to the result anxiously waiting to hear if he'd been elected for a seventh time running.
"It's like going to the dentist," he told me. "I hate counts."
He had reason to be nervous. Newcomer Mark Rory Logan moved over from his Northern Irish home turf a few months ago, and had gathered a considerable amount of support for such a short amount of time.
This despite the fact that Labour believes he has no intention of staying there, as their North-East campaign coordinator Karen Hon explained over the phone.
"Unfortunately, Bolton being a Brexit town has played a big role for us in this campaign," she said.
"You'd be hard pushed to knock on a door and have someone say something bad about David, but because of Brexit it's become much bigger than him."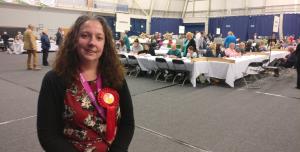 PPUSHING FOR LABOUR: Campaign coordinator Karen Hon
Although eyes were on Mr Logan and Mr Crausby in Bolton Arena on the night of 12th December, there was also a smattering of Lib Dem, Brexit Party and Green supporters milling around, waiting for the tables of volunteers to finish the count.
At around 3.20am, a woman stepped onto the podium and called the candidates forward to the stage. The results are in.
Turnout was 64.7%, marginally down from 67.2% in 2017, and the results were far closer than Labour had feared.
A sober Mr Crausby stood with his hands clasped in front of his stomach as the numbers reveal a marginal Conservative win. Labour's support slipped by 6.1%, giving the Conservatives an astonishing 378-vote lead and toppling the Labour MP from his 22-year-long run.
In his acceptance speech, Mr Logan spoke about the opportunities now available to a newly-blue Bolton North East.
"Rather than looking south to London, we can once again be an integral part of bringing energy, drive and optimism to the north of England.
"Bolton has a proud industrial history," he went on, referring to the town's role in the textile industry, "and I believe we can truly put it back on the map where it deserves to be."
"Tonight's results show a rejection of Jeremy Corbyn and John McDonnell's policies. They are overtly ideological, and I think it shows that the UK just does not have the appetite for that kind of government and that kind of economic system."
As to where he will focus his attentions on entering Parliament, Mr Logan said: "First and foremost before Christmas I will be backing Boris' [Brexit] plan, looking at the end of January 2020.
"That's going to be overwhelmingly the most important issue that the country faces, but it also presents to us a great opportunity about how the UK can look in the future," he finished.
Mr Crausby's concession speech was gracious. It has been an honour to serve the constituency for nearly 23 years, he said.
"It's disappointing but all good things must come to an end. That's democracy, you take the victories and you've got to take the failures."
"It's not been a good night for Labour," he continued, "but here in Bolton I think we have demonstrated that with good organisation and determination, we can and will win this seat back again.
"Some years ago I stood on this platform and said you should watch this space because the Labour party will be back in this seat, whether those celebrating tonight like it or not.
"So congratulations to the victors, but we will scrutinise. The Labour Party will scrutinise the promise that has been made."
"And best of luck when it comes to getting Brexit done by the 31st of January. I think what we're all looking forward to is getting Brexit started."
As to his own plans, Mr Crausby is clear: "I think retirement now. I'm of an age where it's time I packed it in.
"I often say that I wasn't sure when I should step down, so I decided to let the people decide, and they've decided."
The complete results for Bolton North East:
David Anthony Crausby – Labour – 19,381
Warren Lee Fox – Liberal Democrats – 1847
Trevor Jones – Brexit Party – 1880
Mark Rory Logan – Conservative – 19,759
Liz Spencer – Green – 689