Labour held on to Oldham West & Royton despite a disastrous night for the party nationwide.
Labour won 24,579 of the votes, with their closest competition, the Conservative Party, finishing 11,137 votes behind on 13,452.
Despite winning comfortably, Labour candidate Jim McMahon won 5,267 less votes than he did in 2017, reflecting his party's failure to conjure up their usual support.
Mr McMahon was clearly disappointed by the national picture despite his win, saying: "I'm fearful for what a five-year Tory majority will mean for a town like Oldham.
"We've been the first in line to get hit when the public sector cuts came in and they've continued. We've been hit hard on policing, on the NHS, and on local public services in particular. 
"I do think the public services are in crisis and the idea that the Tories have another five years to see that through genuinely worries me."
Although much of his work will surely surround Brexit, he is committed to supporting his constituency in Parliament.
He said: "Where the Tories are doing damage to my town I'll be the first to stand up and hold them to account.
"But, across big issues like adult social care we need cross party consensus."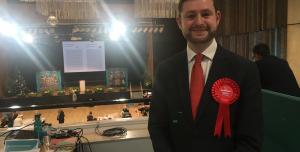 Traditionally a Labour stronghold, McMahon admitted the party struggled throughout the campaign to gain the support they were used to.
He said: "Earlier on in the campaign the Labour vote was good but it was soft, and a lot of people were not quite sure how they'd vote on the day.
"Quite a lot of the campaign was trying to reinforce people by going back and revisiting. 
"Some of it was firm, but I don't think it was firm enough to give confidence."
Conservative Party candidate Kirsty Finlayson expressed her disappointment in the party's inability to gain seats in Oldham, but she believes the votes should be a wake-up call to Labour.
She said: "I'm gutted that both of us (Conservative candidates standing in the area) missed out and if it wasn't for other parties we could have gained in Oldham East this evening.
"I think the increase in the vote share shows that people want real change in the North. 
"Hopefully what will come out of this is that the Labour Party will work harder for their votes next time because there are much slimmer majorities."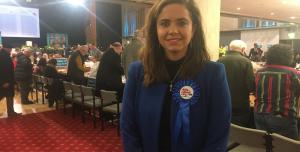 As for the campaign, Mr McMahon said: "I'm incredibly proud of the Labour family and the way we've campaigned. Nationally we can't escape from how difficult this election has been.
"Under the leadership of Jeremy Corbyn both Labour leaders were confident that they could be part of the new government, but it wasn't to be.
"A lot of us came into this election excited about the opportunity to transform the country and that obviously didn't cut through. We need to rebuild which might take time."
The voter turnout was 61.03%, a decrease of 2.07% compared to the 2017 campaign.
Meanwhile the Brexit Party won 3,316 votes, significantly ahead of the Liberal Democrats' 1,484.
Running for the first time, the 'Proud of Oldham & Saddleworth party' finished with 533 votes, just behind the Green Party who achieved 681.
UKIP were the lowest scoring party in the constituency, registering just 389 votes.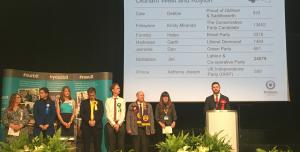 Oldham Civic Hall was filled with worried Labour representatives at 10pm, but their fretting was directed towards the other seat in the town.
Oldham East and Saddleworth has been red since its inception in 1997, but there was a 61 per cent chance of a tory upset according to the exit poll.
Debbie Abrahams did manage to hold her seat but she saw her votes drop by 5,000 from 2017's election to cut her majority from 8,000 to under 2,000.
Speaking after the results were announced, she echoed McMahon's concerns for Oldham under a Tory government.
She said: "Towns like Oldham have already suffered under the Conservative government and the council's lost almost half its budget.
"Royal Oldham Hospital has got 43,000 people waiting for operations, so what do we think is going to happen in the future?
"It's absolutely devastating for the party. I think it's the worst result since 1935 and we need strong opposition to be able to stand up to the Government that now has a massive majority.
"It's really worrying."
Oldham West and Royton full results:
Debbie Cole (PO&S) – 533
Kirsty Finlayson (Con) – 13,452
Helen Formby (Brexit) – 3,316
Garth Harkness (Lib Dem) – 1,484
Dan Jerrome (Green) – 681
Jim McMahon (Lab) – 24,579
Anthony Prince (UKIP) – 389