Debbie Abrahams held on to her Oldham East and Saddleworth seat, despite falling behind on the earlier exit polls.
She received 20,088 of the votes, a significant decrease from the 25,629 she won in 2017.
The independent polls had suggested a 61% chance of a Tory upset in the constituency, but Labour pulled through to retain a seat they have held since its inception in 1997.
Speaking immediately after the result was announced, Mrs Abrahams spoke of the tone in which this election has been fought.
She said: "It has certainly been the most difficult election that I have encountered.
"I have to say my fellow candidates have behaved in a friendly and amicable way, but beyond that there has been a nasty tone to the campaign and to politics which we shouldn't have.
"Politics is about public service and to name call and make things personal detracts from what we're about. We must be better than this."
Mrs Abrahams has held the seat since 2011 and had been slowly winning a higher percentage of votes election by election until now.
Despite winning, it nearly turned out to be a catastrophic result for a party who have suffered huge setbacks up and down the country.
It was the closest the Labour Party have come to being unseated in the constituency since 2010, when they defeated the Liberal Democrats by just 103 votes.
The turnout in Oldham East and Saddleworth was 64.18%, an increase from 61.7% in the 2017 General Election.
The constituency voted 59% leave in the Brexit referendum, and that seemed to persuade some voters to side with the Conservatives and their 'Get Brexit done' message.
Mrs Abrahams spoke to MM afterwards about a dreadful night for her party.
"It's absolutely devastating for the party. I think it's the worst result since 1935 and we need strong opposition to be able to stand up to the Government that now has a massive majority.
"It's really worrying."
Mrs Abrahams went on to talk about her worry for the constituency she continues to represent.
"Towns like Oldham have already suffered under the Conservative government and the council's lost almost half its budget.
"Royal Oldham Hospital has got 43,000 people waiting for operations, so what do we think is going to happen in the future?"
There was much speculation that the Brexit Party's decision to stand in the constituency ultimately cost the Conservatives, something candidate Tom Lord (pictured below) agreed with.
He said: "I think there is certainly a way you could analyse it and come to the conclusion that the presence of other candidates, and particularly the presence of the Brexit party, cost us.
"Had those votes come to the Conservative party it could have been different."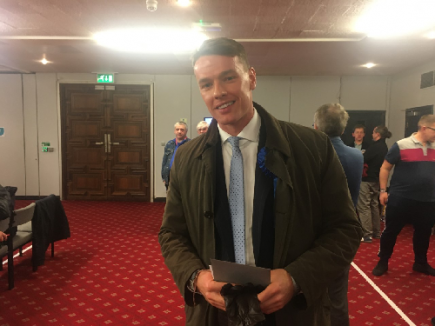 Mr Lord went on to add, despite only entering the election race five weeks ago, he felt encouraged by the evening's events as he attempted to overturn a long-standing MP.
He said: "I'm very pleased, very encouraged. Nationally we're very happy as well.
"I came in here to attempt to overturn somebody who had a Member of Parliament for nine years, somebody who was going to be very difficult to shift."
Elsewhere the Brexit Party won 2,980 votes, ahead of the Liberal Democrats with 2,423.
Newly founded 'Proud of Oldham & Saddleworth' finished ahead of the Green Party, winning 1,073 compared to the Greens' 778.
Independent Amoy Lindo won the remaining 233 votes.
The night proved to be successful for Labour in the area with Jim McMahon comfortably retaining his Oldham West and Royton seat, although by 5,267 less votes than in 2017.
He said: "I'm fearful for what a five-year Tory majority will mean for a town like Oldham.
"We've been the first in line to get hit when the public sector cuts came in and they've continued. We've been hit hard on policing, on the NHS and on local public services in particular.
"I do think the public services are in crisis and the idea that the Tories have another five years to see that through genuinley worries me."
Oldham East and Saddleworth full results
Debbie Abrahams (Lab) – 20,088
Sam Al-Hamdani (Lib Dem) – 2,423
Paul Brierley (Brexit) – 2,980
Paul Errock (PO&S) – 1,073
Amoy Lindo (Ind) – 233
Tom Lord (Con) – 18,539
Wendy Olsen (Green) – 778
Oldham West and Royton full results:
Debbie Cole (PO&S) – 533
Kirsty Finlayson (Con) – 13,452
Helen Formby (Brexit) – 3,316
Garth Harkness (Lib Dem) – 1,484
Dan Jerrome (Green) – 681
Jim McMahon (Lab) – 24,579
Anthony Prince (UKIP) – 389