Before the 'tsunami' exit poll predicting a Conservative landslide hit the headlines, it was thought that the win for Bolton West could have gone either way.
In 2017 the constituency was seen as one of the most-hotly contested seats in Greater Manchester with the Conservatives' Chris Green having won by less than 1,000 seats.
But by the time Green was announced to have brought home the win with almost 9,000 votes, it was clear this was no longer a two-horse race, and the Conservatives had cemented their majority in this once marginal seat.
Upon winning, Green told MM: "Well the number one priority is to deliver on Brexit. We have to deliver by the end of January and negotiate a new deal with France and Germany and all the other nation states across Europe because ultimately we are going to be great friends with them.
"Also we have to make sure the economy is sound because that is where the money comes from to pay for all our vital services."
The numbers of votes for each respective party in the Bolton West constituency were as follows: Conservatives 27,255, Labour 18,400, Liberal Democrats 2704, Green Party 939.
Julie Hilling's loss was only a small part of huge defeats for Labour across the board throughout the evening, eventually having secured a landslide majority by the early hours of the morning.
Hilling said: "I think we've just been hit by a tsunami across the country and I guess it's unexpected in many ways that it would be this strong.
"People saw this very much as a Brexit election. People in this country are sick of Brexit after three years and I think that even with enormous cut-through it will be far from done on the 31st of January."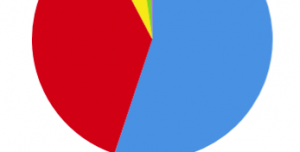 'A SOLID MAJORITY': Vote share of the respective parties in the Bolton West constituency
Rebecca Forrest, the Liberal Democrat candidate, was also disappointed that her flagship policy of stopping Brexit was now off the table, but was still pleased with the result.
She said: "I'm fairly pleased. I'm grateful for the support of voters who actually stood up for what they believed in and voted for something they wanted to vote for rather than squeeze of Labour or Tory which we now know it was never going to be.
"I still think that people deserve a say on the final Brexit deal, when the referendum happened it was not clear what leave was and it meant so many different things to different people and many people have changed their mind in the meantime, both ways.
"I do think we deserve a say on what that final deal will be."
Voting turnout in Bolton West was also down since 2017 showing a 5.4% decrease, a consistent pattern across the board with most constituencies Greater Manchester suffering a percentage hit.
Before the numbers were announced it was clear that Green was confident in his position and spoke about the cause of severe loss in Labour strongholds.
He said: "Labour have been taking many thousands of people for granted not just for years but for decades.
"Something that's really cut through is respecting democracy, which has manifested itself through Brexit and I think for many people they finally see that the Labour Party do not represent them."
Paris Hayes, the Green Party candidate, and one of the youngest candidates to stand in Greater Manchester, was happy with the Green's result despite a Conservative landslide.
Speaking of how across the country Green managed to double their vote share, 18-year-old Hayes continued to passionately encourage voters to take action on climate change and emphasised the importance of a Green voice across the UK.
He said: "It shows that now more than ever there is a need for Green voices in parliament and Green voices up and down the country."
With 47,710 votes cast and a strong majority hold for Green, Bolton West is firmly back in the hands of the Conservatives, as is the rest of the UK.
Green spoke positively of the party's future both in Bolton and on a national level.
He said: "It's places such as Bolton and Bury and elsewhere Boris Johnson sees not only the concerns of the north-south divide but also the divide between cities and towns.
"He's actually clearly seen a concern that many people are voicing and it's not a surprise that these constituencies think that actually Boris Johnson is listening to us."