The family of a young Bolton girl whose life was lost last year to heroin have released photos of their happy-go-lucky daughter and sister.
Trainee hairdresser Leanne Johnson, 26, had resorted to vice to pay for her habit and was so desperate to get clean she went on TV's Jeremy Kyle Show in the hope of getting professional help.
But despite kicking her addiction during a four month placement in a rehabilitation clinic, Leanne inexplicably went on a secret drug binge when she returned home to Bolton.
Her mother, who was due to watch a movie on TV with Leanne, found her body in her bedroom with drug paraphernalia by her side including a syringe in an ashtray and a crack pipe in her handbag.
The family discovered she took her fatal overdose whilst using her mobile phone to download an application form for another hairdressing college course.
Today, precious photos of Leanne and another of her in the grip of her addiction were issued by her relatives as an inquest coroner recorded a verdict of death by misadventure.
One of her sisters, Melanie Gatis, said:  "Leanne has had a last minute blip and we still don't know why. I just think she succeeded in kicking her habit and then embarked on a moment of madness which cost her life. If her story saves one person's life then Leanne has achieved some form of legacy.
"No family should go through what we went through. We honestly thought we'd got our sister back. It's heartbreaking – Leanne was fun, loving, funny, and she was just really looking forward to her future. It is so sad."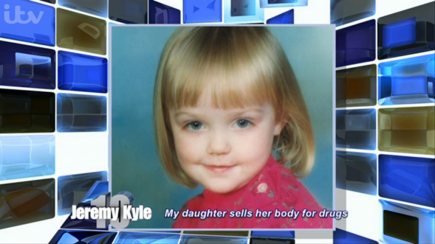 'LAST MINUTE BLIP': Melanie Gatis' sister Leanne embarked on a 'moment of madness' which cost her life (©ITV, with thanks)
The Bolton inquest was told Leanne came from a good family upbringing and as well as studying at college had a number of jobs including one at Claire's Accessories and the Wacky Warehouse. But aged 18 she began a relationship with a man who introduced her to drugs.
Over the following years her girl-next-door looks began to disappear as Leanne became addicted to heroin and crack cocaine – at one point smoking a rock and injecting herself with six bags of heroin every day.
She split with her boyfriend but her habit worsened when he died from heroin misuse and she would go missing – on one occasion for several weeks.
Another of Leanne's sisters, Lisa Stevenson told the inquest: "Her appearance wasn't as usual and her self esteem seemed to go. We have tried as a family, done a detox with her, we sat with her for nearly two weeks but there wasn't the help and support we really needed. She used to just disappear and go and self destruct but she would eventually come home.
"She would always keep in touch by a message but we never knew her whereabouts. Leanne always said that she wasn't really doing heroin, just doing crack, but we all had our own views."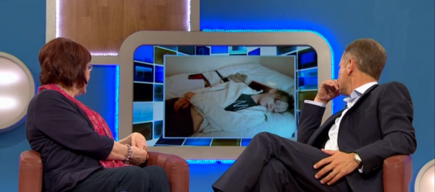 'CRY FOR HELP': Jeremy Kyle and mother Pamela Johnson look on in horror at a photo of the heroin-raddled body of Leanne (©ITV, with thanks)
In May 2014 Leanne contacted the makers of the Jeremy Kyle show in a 'cry for help'. The show was filmed the following day at MediaCity, where she 'bared her soul and admitted taking drugs'. As a result she was offered help from the Perry Clayman Project in Luton for a rehabilitation programme.
Lisa said: "We were told that she would do a detox and she would be looked after. We didn't see her until the fifth or sixth weekend after her going. Then she was a totally different person, she managed to put on a little bit of weight.
"It was clear Leanne had come back; her personality was appearing again, just a different person. She was fantastic, full of the joys of spring, she was beaming, a smile all the way up her face. She just seemed happy."
Leanne completed the 12-week course but lost her place on a second stint after she broke the rules by drinking alcohol and was brought back to Bolton by the project on September 1.
Despite being upset at being ordered off the scene and having trouble with a boyfriend she met at the clinic, she talked of joining a gym and was planning to attend Narcotics Anonymous.
The tragedy occurred on September 8 after Leanne went out telling her mother she was attending a NA meeting, only to return saying she was not well.
In her bedroom there were lighters, a spoon, a syringe and a plastic bag. Tests showed traces of cocaine in her system and heroin at a concentration of 953mg per litre. Fatalities can occur at a level of between 100 and 500mg.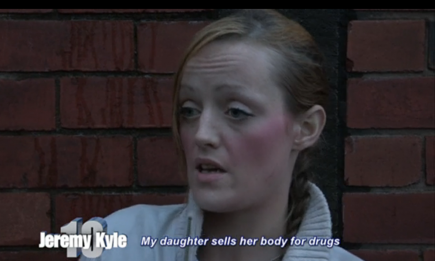 TWICE THE FATAL LIMIT: Leanne's body was found with heroin at 953mg, over twice the limit expected for fatalities (©ITV, with thanks)
Leanne's mother Pamela Johnson said in the run up to her death she had felt 'like I had got my daughter back'. She added: "She was happy, looking forward to her future, going back to college. She said she never felt better and had never been happier."
Coroner Alan Walsh said it was likely Leanne bought the drugs when she went out on the evening of her death. He told her family: "I can see you are a respectable family torn between the love of a daughter and sister and the difficulties of managing someone who has an addiction.
"You made every attempt to try and help her and the hope for the future of Leanne was at the highest level. Nothing could have prepared family for what happened later.
"I believe this was the first time she had used any heroin from May 8 until September 8/9 and the drugs would have had a dramatic and catastrophic effect on her.
"Warnings should be sent out to anyone who takes heroin of the dangers and jeopardy they place upon themselves. I believe it is greatly to Leanne's credit that she made contact with the Jeremy Kyle Show – something which might seem unusual.
"I give credit to the Jeremy Kyle Show as it may be seen as an entertainment show but not a lot is known about the after-care."
Story via Cavendish Press.
Images courtesy of RIP Leanne Johnson and ITV, with thanks