Move over Starbucks and Costa, a Cheadle entrepreneur is providing a top-quality caffeine boost to Manchester and beyond.
Matthew Deasy, 37, launched his portable coffee maker – called The Oomph – on Kickstarter back in November, raising £61,090, an incredible 234% of the initial target. 
Described as 'the world's fastest hand-powered portable coffee maker and travel cup', the speed of the process is matched only by how quickly The Oomph has caught on. 
Matthew told MM: "We are delighted with how it's going – it's been a lot of hard work but it's started to bear fruit.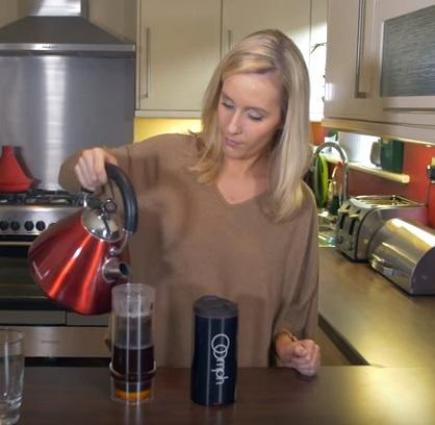 OOMPH: Matthew claims the machine is the fastest of its kind in the world
"There are a lot of customers, and the demand is massive, but it's a nice problem to have.
"When you press that button to launch it you don't know how it's going to go, and all of a sudden the orders start to come in. 
"The name has helped.
"It's two-fold really: first of all the pressure – and pressure is the key to a great coffee – helps the machine to make a sort of 'oomph' noise. 
"Also it's a really fast process, so we've got a play on words with the mph standing for miles per hour." 
Describing himself as a coffee engineer, Matthew has been selling coffee to restaurants and cafes for over ten years, so is well-placed to know what goes into the perfect brew.
The Oomph uses only coffee beans, hot water, and a hand pump, and brewing in just 90 seconds, it has received praise for its practicality and simplicity, as well as its richness of flavour. 
There has been international attention from traditional coffee-drinking countries such as Australia and America as well as from the Far East, where the wizardry of the gadget has created a buzz.
With over 800 Starbucks stores and over 1700 Costa Coffee chains in the UK, it is a crowded market, but Matthew believes that, having watched the growth during the product's six years in development, this is a help not a hindrance. 
"If I made this five years ago, nobody would have bought it, probably," he said, ahead of the product's May debut. 
"Lots of people need a coffee to start the day, so it is part of our culture, and it is all about the search for proper coffee. 
"Everyone used to drink this disgusting instant coffee that just came out like slop, but people just don't drink that anymore – part of it was that I thought I could do better.
"The fact that coffee's a drug helps, too, of course! If coffee was invented today, we probably wouldn't be allowed to have it.
"It's just quite humbling to see that people want to buy your product." 
The Oomph can be pre-ordered here. https://www.indiegogo.com/projects/oomph-portable-coffee-maker#/
Image courtesy of Oomph Coffee, via YouTube, with thanks