"I had a random idea one night and now it's turned into a movement backed by 40,000 people."
Meet the first-year student asking his university to open up empty accommodation properties up to the homeless and in turn, pushing for Manchester to pioneer a new movement.
Spencer Kay has a passion for looking after people, perhaps his studies as a nurse naturally imply this, but it goes further than that.
Before Christmas last year, Spencer started a petition asking the University of Manchester to "open the vacant spare rooms for the homeless or vulnerably housed" by "giving them a temporary lease for a month".
His petition has since been backed by 41,000 people – a number which rises by the minute.
Spencer explained humbly that he just wants to help people and said he was angry with the number of "obviously" empty properties in the university's possession and contrastingly, the sheer number of people on the streets in Manchester.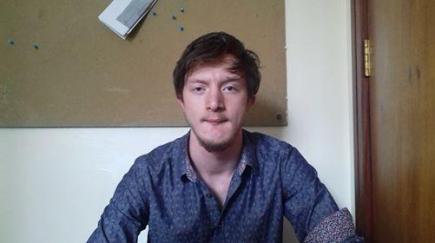 CARING CORE: Spencer Kay once repurposed an abandoned Brighton nightclub into a shelter for 30 homeless people and his Manchester petition currently has 41,000 backers 
With a past in working with the homeless, Spencer is no stranger to projects like his current one. He ran a community centre in his hometown, Brighton, repurposing an abandoned night club into a home for 30 homeless people. Naturally, the sheer extent of people sleeping rough in Manchester inspired him to recreate something similar here.
He unassumingly admits that although tens of thousands of people have backed his idea, he started it on a whim in his bedroom one night, seeing it as an obvious solution to the problem in Manchester:
He said: "I was procrastinating one night before Christmas, made a quick petition online and then it quickly gained traction."
This lack of planning perhaps makes up for unsurprising response from the university, which is a resounding "no".
Their decision was reached through a number of technical problems that a potential scheme would face in terms of vetting people, safeguarding them and protecting the buildings.
But this response is insufficient for Spencer who is continuing his campaign months on from its birth. The next steps are to link up with the wider community aiming to help the homeless and scope out the deed-holders of empty buildings that the university has since sold on.
He also cites the prospect of working with schemes like Live In Guardian who takeover empty properties and turn them into habitable environments, avoiding squatters.
On the current affordable housing crisis of the city, Spencer detailed his thoughts that countless people are being forced out of their roots in places like Ancoats and Oldham for the "gentrified buildings being built for swanky people."
However, this isn't necessarily a cause of homelessness, he explains. Rather, the state of austerity is to blame: "With the demise of social care and lack of funding for housing trusts, I don't see the homeless problem going away.
"We need to be giving long-term promises to people – it's not good enough to just give homeless people short term handouts from charities."
Instead, Spencer sees a future in Manchester as a pioneer for housing the homeless in empty properties, following his petition. Manchester itself is home to 11,000 empty properties, and Spencer explains that when they're already purposed for living in, it seems ridiculous to see that go to waste.
He theoretically outlines a top-down approach from government to temporarily house the homeless in empty properties, owned by public companies, before they are in use again.
That said, in all, he feels the silver bullet to ending homelessness is a bottom up approach: "Andy Burnham might be announcing a load of polices – which are in themselves very valuable – but ultimately it needs to come from everyone.
"We're obsessed with personal success and personal gratitude and the attitude towards the homeless is rooted in that.
"Homelessness really is the fault of society, not the individual."