Sir Ian McKellen's bereaved 'nephew' broke down in tears after receiving a text from 'Mum' to promote Parklife's afterparty – the day before her birthday.
Rachel Leathley, 53, from Manchester, died last year after fighting a crippling illness for ten years, leaving behind her five children, whom she had brought up as a single parent for almost 15 years.
The mum-of-five suffered with amyloidosis for ten years, a condition which affects the nervous system, despite being given just six months to live.
Sir Ian McKellen, Rachel's mother's cousin, has been a close family member for many years and considers Rachel's children his nieces and nephews.
Andy Leathley, 28, was preparing to honour his mum's memory with his two brothers and two sisters, who would have been 53 today, when he received an unexpected message yesterday afternoon.
The Parklife text read: "Some of the Parklife after parties have already sold out. If your going, make sure your home for breakfast! Xxx."
Andy, who now lives in Chorlton and works in the wine industry, said the message came as a huge shock.
HORRENDOUS promo text from @afterlife_mcr guised as "Mum". Lost my my mum in Nov & jst broke down in public. U wait!! pic.twitter.com/dNz3aeS8Yb

— The Wine Guy (@AndyTheWineGuy) May 13, 2014
"She only died six months ago, so it's still pretty raw. It was such a shock to me when I received the text, I just clammed up," he told MM.
"It stopped me in my tracks. I thought it was someone playing a joke. It was strange that they were able to do this, to get into your phone and pass off as your mum.
"I was actually thinking about her already, because it's her birthday today. It just compounded things really. It made a very bad day so much worse."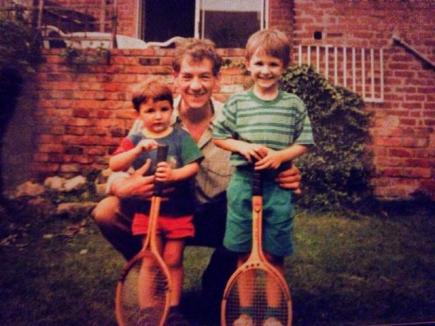 SPECIAL GUEST: Andy with 'Uncle' Ian and younger brother Robin
 
Rachel, who tutored Take That's Jason Orange, was forced to retire from her job as a music teacher and from working altogether because of her illness.
She was given just six months to live when she was originally diagnosed, but defied doctors to live for ten more years with the help of her children, Robin 26, Isobel 25, and twins Libby and Kit, 23.
"She was given just six months to live," Andy said. "She fought against the odds, she defied science," 
"My dad moved out when I was ten, leaving my two brothers and two sisters with my mum, so we were very close anyway."
During these early years the children also formed a bond with the Academy Award nominated actor Sir Ian McKellen, best known for his roles as Gandalf in Lord of the Rings and Magneto in the X-Men films.
"Well he's not actually my Uncle, but we've been very close with him since we were very little because he doesn't have any children himself," Andy told MM.
"I speak to him about two or three times a year. My sister is actually with him in London today. We're very close."
Andy says the family's bond was made even stronger by their mother's illness, who all helped her through her time of need.
For the last 6 months of Rachel's life, Andy's youngest sister, Libby, even quit her job to look after her sick mum.
"We all had to muck in, we had to do our best to care. She wanted to still be a strong mum, but we had to be strong for her, we had to pay her back for all those years when we were growing up."
After years of battling and defying doctors, Rachel eventually passed away last year.
Sir Ian was unable to Rachel's funeral due to work commitments, record a personal recital to brighten up the sad day.
"At the time of my mum's death, he was actually in a Broadway production with Sir Patrick Stewart," Andy told MM.
"He couldn't make the funeral, but he recorded a recital for my mum, which was a really nice gesture."
Andy says the period was an extremely difficult one for the whole family, though he admits there was a sense of relief in her passing.
"It was probably the worst thing that ever happened in my life," Andy told MM. 
"But underneath the unmeasurable sadness was an underlying relief relief that she didn't have to go to sleep and wake up in pain."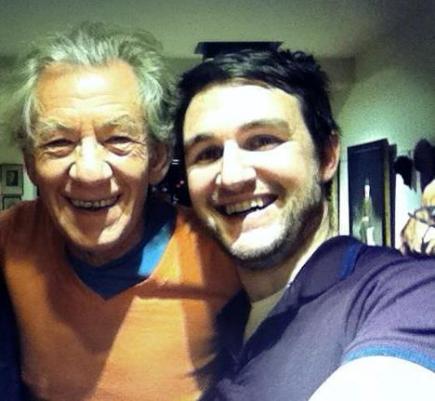 HAPPIER TIMES: Andy says he considers Sir Ian McKellen his uncle
 
Andy says the feelings that compounded his mother's death returned when he received the insensitive Parklife text.
"When I got the text, some of those feeling from last year just came flooding back. It's certainly something which comes and goes in terms of uncertainty," Andy told MM.
"Sometimes you want to grieve. I'll get out a card from mum or something like that and just let it out.
"To get something so disgusting like that tough, from a PR campaign, when I'm unprepared, it's just so ill-though out and completely insensitive.
"It was just shoddy marketing really. It's going too far, really shoddy promotion."
Parklife issued an apology earlier today, but Andy told MM the apology comes across as 'arrogant' and 'insincere'.
"The Parklife Weekender issued a light-hearted marketing SMS message to customers in preparation for the annual weekend festival next month," the Parklife statement said.
"It was only intended as an irreverent way to engage with festival goers and was in keeping with the overall tone of the Parklife Weekender. The organisers of the Parklife Weekender would like to apologise to those offended by the communication."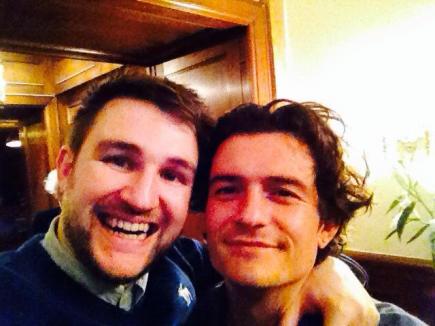 BLOOMING FRIENDSHIP: Andy poses with Lord of the Rings star Orlando Bloom
 
Andy told MM Parklife need to issue another, more acknowledging apology in order smooth over relations between those who have been affected by the campaign.
"They've not really defended the strategy really. It's kind of 'well it was on meant to be light-hearted, so sorry if some of you took offence', he told MM.
"It's an arrogant, almost like an automated response. It's not sincere at all. It's almost like they're not properly admitting any blame.
"What they need to do is just admit that it was a huge error, and they need to just admit that."
He now says he is considering not attending this summer's festival, which will feature Kendrick Lamar, Snoop Dogg, Public Enemy, Bastille.
"It kind of makes me not want to go now to be honest. I've been a long-time admirer of Parklife, and I've been on a couple of occasions," he said.
"I was really looking forward to this years festival, the line-up is awesome, but they've really put a dampener on it now.
"I need to just digest it really, but it's definitely put my attendance in serious question."
Images courtesy of Facebook, with thanks.