Life-saving safety precautions will see road crews working through the night on a £208million motorway scheme across Manchester – after shocking stats revealed eight workers died on the job.
A further 317 were injured while working on or near motorways, between 2009 and 2013, and last year saw the highest number of serious injuries among incident response teams for six years, according to the Highways Agency. 
With up to 200 people at a time working on Manchester's current smart motorway scheme the chances of injuries are high than ever. But construction manager David Emery, insists new safety measures are being taken to ensure workers are protected.
He told MM: "There is nothing more important to me than the well-being of each worker and ensuring they go home safe and well at the end of the evening.
"We have carried out several risk assessments to help us decide what time of the day work should be carried out and with the traffic flow being much lower at night this is a much safer option.
"Not only does it give our workers more room to carry out their job but it also separates the workforce from the public and ultimately that is something that is very important to us."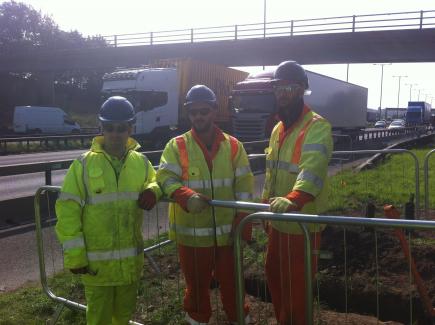 SAFETY DRIVE: Workers need protecting after eight perished in five years
The project began in July and aims to cut congestion and improve journey times on a 17–mile stretch of the network, between junction eight of the M60 near Sale and junction 20 of the M62 at Rochdale.
State-of-the-art technology will be installed to monitor tail-backs and provide information to road users by using variable speed limits on overhead message signs.
The hard shoulder is also being permanently converted into an extra lane of a five-mile stretch of the M62 between junctions 18 and 20.
A 50mph speed limit has temporarily been introduced while the work is being carried out which has been met with controversy from Manchester commuters.
However, David insists the reduced speed is completely necessary when it comes to helping to protect the workforce.
He said: "Having a 50mph speed limit is extremely important at this stage because we have people working at the side of the busy carriageway.   
"There are about 1810 vehicles coming through here each day and that reduced speed really doesn't make a big difference when it comes to the individual's journey time because the roads are so congested. 
"The difference for our workforce is they feel much safer carrying out their jobs and that is our main priority."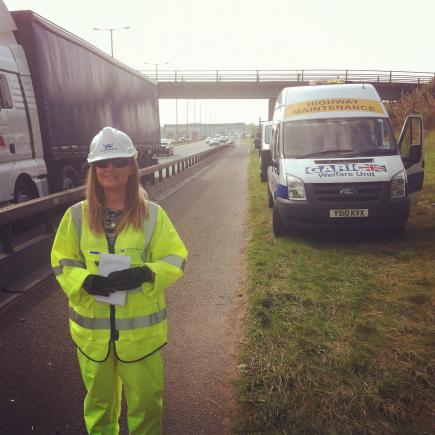 AT THE ROADSIDE: MM's Sian Broderick dons hi-vis and hard hat to see the dangers for herself
MM headed out on to the M62 to see the work being done on the scheme, which currently includes digging underneath to locate electricity cables and water pipes.
Lee Walker, 30, from Preston, has spent 10 years on busy roadsides in the North West – but insists he feels safe working on the smart motorway scheme, thanks to the temporary barriers that currently separate the crew from the traffic.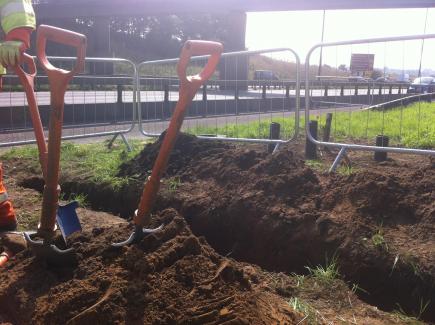 DIRTY WORK: The job entails getting up close and personal with high-speed traffic
He told MM: "I've never been in any bad scenarios myself but I've heard of lads getting injured. I've never worried myself though especially with the barrier guards we have in place. They remove any worry that I may have in my mind about the traffic because they keep us very separate. 
"Our main priority is locating these cables safely without damaging them and without injuring ourselves so it's good that we can get on with that without having to worry.
"We have lots of safety procedures in place and we have a briefing every morning with ensure we're looked after and doing the job as safe as possible."