People of all ages, colours and creeds gathered in Piccadilly Gardens on Saturday afternoon as part of a nationwide protest against the government's handling of the refugee crisis.
Hundreds of impassioned protesters, known as the Refugees and Migrant Lives Matter movement came together on what was also International Anti-Racism Day to hear speeches from campaigners from a number of groups and organisations.
Amnesty UK, rights group RAPAR and the newly formed Stand Up To Racism were represented whilst other notable speakers included Labour councillor Julie Reid and Clare Soloman of the People's Assembly.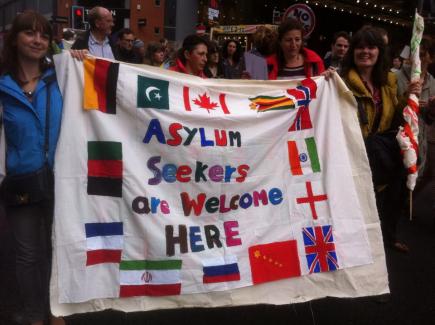 REFUGEES WELCOME: Protestors show their support
Nahella Ashraf of RAPAR, who was one of the organisers of the event, told us that the rally came out of 'anger within the local community'.
"We were horrified that our government wasn't doing enough," she said.
"Being out on the streets on a Saturday afternoon is a clear indication about how we feel."
The Piccadilly Gardens rally took centre-stage for over an hour before protesters then marched into the city centre armed with flags, banners and megaphones.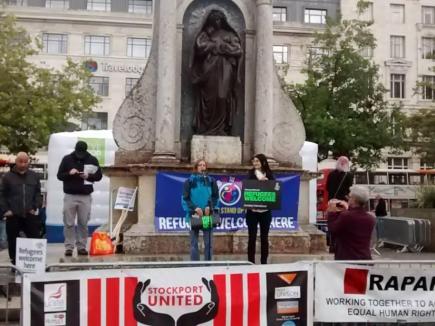 PICCADILLY PALARE: Protestors gather at Piccadilly Gardens
The rally swelled as the march made its way through the busy streets of Manchester, before returning to Piccadilly Gardens – with many onlookers joining the cries of 'say it loud, say it clear, refugees are welcome here'.
Once the rally had come to an end, members of the newly formed Stand Up To Racism group headed to the Manchester Central Hall to establish future events in the city aimed at raising awareness of the plight of refugees and the need for the country to play a greater part in alleviating the struggle.
Manchester was just one of many cities that staged #refugeeswelcome protests on Saturday, with London, Birmingham and Glasgow among others involved in colourful street demonstrations.
Watch below: MM spoke to rally organiser and pro-refugee activist Ameen Hadi and Stand Up To UKIP representative Catherine Ridgeway on the success of the rally, the cause behind it and what's planned for the near future.