A skyscraper 27-storey residential development is set to join the city's skyline by 2016, after planning permission was confirmed by Manchester City Council.
Construction work on the £40million Axis Tower will begin early next year, creating a high-rise neighbour for the Beetham Tower, currently the city's tallest building.
The joint venture between Development Securities and Property Alliance Group will develop the city centre site near Deansgate and Manchester Oxford Road stations into a 172-unit residential tower over 153,000 square foot.
Matthew Weiner, director of Development Securities, said: "Axis Tower is a significant development opportunity for us and will deliver an iconic new residential building in the heart of Manchester.
"With planning now secured, we look forward to progressing the project to the next phase with a start on site anticipated in early 2015."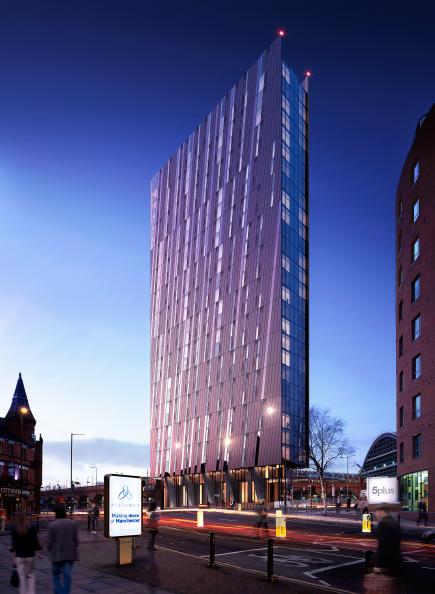 UNIQUE SITE: Construction work on the £40million Axis Tower will begin early next year
The modern apartment block will be clad in reflective metallic bronze and glass, changing colour throughout the day and boast an innovative 90ft advertising screen that will 'disappear' when not in use.
It will be located on the corner of Albion Street and Whitworth Street West, adjacent to Manchester Central, replacing previous plans for a 17-storey block originally granted by the council in 2007 that weren't followed through.
Weiner added: "The joint venture between Property Alliance Group and ourselves represents a powerful partnership, with extensive experience of the Manchester property market and a strong track record in delivering high quality developments that create vibrant new neighbourhoods."
The new tower will also provide added benefits, such as shielding a 'major' wind tunnel, which council officers had admitted could potentially be a risk to disabled people if left unchecked.
The flats will also not suffer any noise impact from nearby nightclubs at Deansgate Locks, due to them being 'mechanically ventilated' so there is no need to open windows.
Dominic Pozzoni, director, Property Alliance Group, said: "This is a unique site and our team has created a statement building that will stand proud in the Manchester skyline. We now look forward to creating Manchester's number one residence."
Image courtesy of Sue Langford, with thanks.