One in six assaulted shop workers stop short of reporting abuse to their employers, a study has revealed at the end of the annual 'Respect for Shop Keepers Week.'
Across the nation, 300 shop workers were assaulted every day this year leading the Manchester-based Union of Shop, Distributive and Allied Workers (USDAW) to publish a number of shocking studies this week to stress the daily dangers retail workers face.
'Freedom from fear', USDAW's campaign to stamp out violence, threats and abuse against shop keepers, hit Manchester on Monday, with a weeklong drive named 'Respect for Shop Keepers' which ran from November 10-14.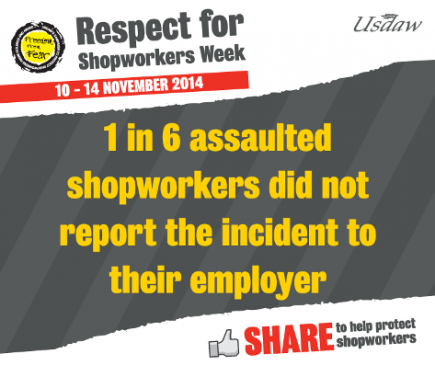 SPREAD THE WORD: Help keep shop keepers safe
Referring to the studies, USDAW General Secretary John Hannett said: "All too often shop workers encounter violence, threats and abuse for simply doing their job.
"Over 300 retail staff assaulted are every day, so it is very concerning that one in six do not report a violent attack to their employer.
"My message to shop workers is very clear; abuse is not a part of the job."
Speeches during the week from Manchester Union Chiefs, Councillors and Police bolstered the campaign which aimed to alter laws and have stiffer penalties to deter any aggressive behaviour.
Beyond effective law changes USDAW also aims to push for safety and security improvements in stores, and to provide a reliable mouth-piece for retail workers affected by abuse.
Greater Manchester Police and Crime Commissioner Tony Lloyd met with Tesco staff today as part of the week to support the campaign.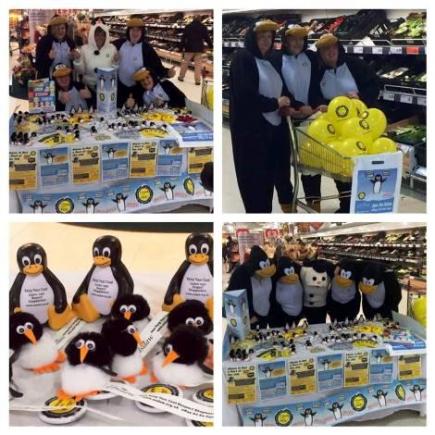 DO THE RIGHT THING: Police urging workers to report abuse
Mr Lloyd said: "From bar staff to bus drivers, we all have a right to work without fear, violence or the threat of violence.
"Abuse should never be treated as 'part of the job', and I urge anyone who has been a victim of such assaults to report it to the police."
USDAW member and Manchester Councillor Kevin Peel joined the union while working at Tesco and thoroughly backed the campaign.
"Violence against shop workers is unacceptable. More needs to be done to wipe it out," he said.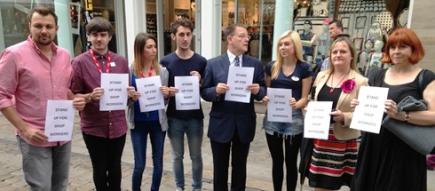 STRENGTH IN NUMBERS: Peel (centre) wants future government changes
"I fully support USDAW's call for stiffer sentences for those found guilty of assaulting shop workers and will lobby for the law to be changed by a future Labour Government."