Elderly and vulnerable people across Greater Manchester will be getting a Christmas miracle this year as the Snow Angels are out in force to keep pathways snow and ice free.
The national campaign has swooped into Manchester to make sure people, who cannot clear their own paths of snow, get the help they need this winter.
Charity Living Streets are looking for Snow Angels – volunteers to help clear paths so elderly and vulnerable people can leave their homes without fear of slipping, falling and injuring themselves.
It is easy to become a Snow Angel, essentially, as all you need is some rock salt, some get-up-and-go and a few spare minutes to look after your neighbours.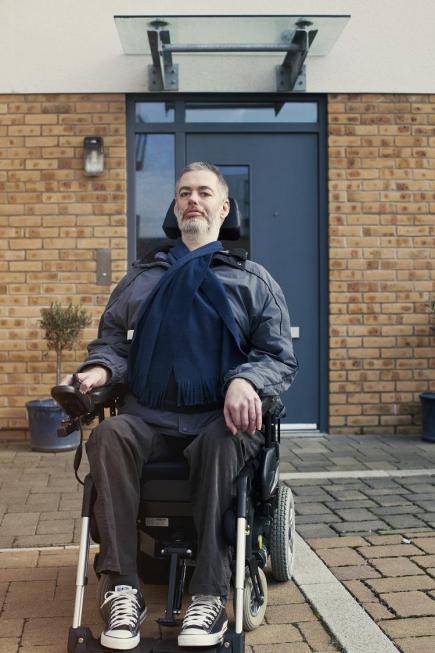 'FOREVER GRATEFUL': The Snow Angels help meant Alan Benson could leave home despite 'treacherous' winter weather
Alan Benson, 46, who is in a wheelchair and has benefited from the campaign, said: "I had my own Snow Angels once. I lived in a block of flats and one winter it snowed heavily.
"It was particularly treacherous and very nasty. Someone kept clearing the outside path from the front door so I could get out.
"I'm forever grateful.  It was such a generous thing to do and it can make such a difference to people's lives."
Living Streets hope that more than 200 Snow Angels will be recruited across the country this winter.
The angels can be any age, as proven by Sophie, 7, Michael, 5, and Hannah, 3, who have been assisting their father, Chris Thompson, in clearing their neighbours path.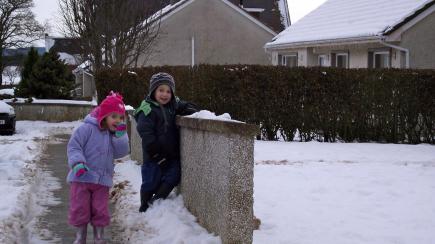 LITTLE ANGELS: Hannah and Michael have been helping their dad clear people's paths of snow
Chris said: "They like to help as much as they can to make sure people can still get out and about in the bad weather.
"Plus, they enjoy being able to build a much bigger snowman with the snow the collect."
Living Streets have been champions of walking and creating safe streets for more than 85 years now, with their early campaigning leading to the creation of the first Zebra crossing in the UK.
They are also concerned with vulnerable people becoming isolated, which is where the inspiration for this campaign came from.
Dave Taylor, Living Streets North-West Regional Direction, said: "Each year thousands of people in the UK are admitted to hospital after slipping on ice or snow.
"This prevents a lot of people from leaving the house during bad weather, which can result in loneliness and all the health problems associated with not being fit and active.
"This winter, we are urging not only the government to ensure these people are not forgotten, but also asking everybody to think about their neighbour."
To find out more about becoming a Snow Angel, or other Living Streets projects, click here.