Roughly 40 protesters turned out to demonstrate the landslide re-election of the Conservative party in St. Peter's Square last night.
Carrying placards and huddling under a canopy, they heard speeches from union reps, anti-racism leaders and concerned citizens – an act of defiance coordinated with others across the country.
In charged denouncements, they argued Boris Johnson's 78-seat majority posed threats to their safety and welfare, just hours after the Prime Minister called for the nation to let the "healing to begin".
"I will not rest until it is certain the NHS will not go to the f*cking Tories – will not be sold off for profit and let the people most vulnerable in this society die," one speaker said.
Another encouraged fresh direct action. "This is your chance to join a union, join a mass movement, take to the streets like the 'Gilet Jaune' [Yellow Vest movement] in France," he said.
"We must fight them at every turn. Our homeland or death – we will win."
Others condemned the incumbent government by simply yelling "F*ck Tories" – a visceral reaction to the UK's new blue-tinted political landscape.
A call for unity
The event's organiser and co-chair of Stand Up To Racism, Nahella Ashraf, argued the results required a collective response from those aligned to movements on the left.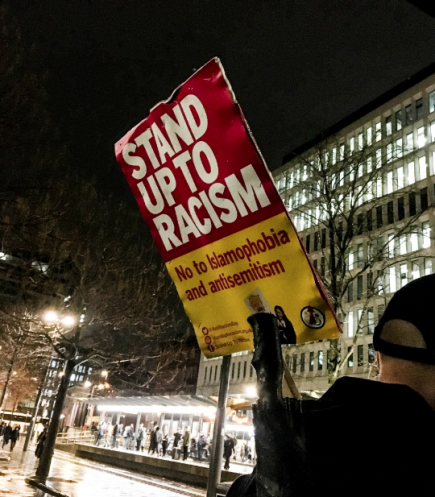 "We've had an election, we haven't got the kind of outcome we wanted, but it doesn't mean we're powerless – we still have the power to make things happen," she said.
"I think we need to be taking to the streets and be building a mass movement against the Tory party."
Earlier in the day, Len McClusky, General Secretary of Unite, suggested Labour's losses came down to a leading politicians' "remain" bias, along with a manifesto that alienated Northern voters.
"Put bluntly, there were far more coalfield seats to lose than there were Canterburys to win," he wrote in a HuffPost article, adding: "Brexit is the immediate cause for the alienation of so many life-long Labour voters."
Rather than laying blame, Ashraf argued unity between moderates, progressives and labour's traditional base was now needed to rebuild the left's status in the future.
"The bottom line is we need to be out, we need to be uniting remain and leave supporters," she said.
"Whether we are in the European Union or out, do we want it to be based on looking after the rich people or looking after the poor people in this country? That's what it's about"
Racist threat from 'the right'
Beyond Brexit, accusations of anti-Semitism have marred Labour for years, with many saying Corbyn's failure to tackle the issue contributed to its defeat.
Ruth Smeeth, parliamentary chair of the Jewish Labour Movement, said on Sky News her party had become tagged as "racist" due to Corbyn's inaction, adding: "He should have gone a long, long time ago."
Ashraf argued such portrayals don't reflect either character of the Labour leader or his life's work as an MP.
"[Members of the press] would like us to believe that an individual who has been at the forefront of the anti-racist movement for his entire adult life is an anti-Semite," she said.
"[But] when two kosher restaurants in North Manchester were firebombed a couple of years ago [in 2017], where was the outcry from these people?"
"They're very happy to point the finger at Jeremy Corbyn, but where are they when we have some real attacks on Jewish communities?"
Instead, she felt a resurgence of nationalism under Boris Johnson – who's party the Muslim Council of Britain condemned as "Islamophobic" in November – was a more imminent threat to minority communities.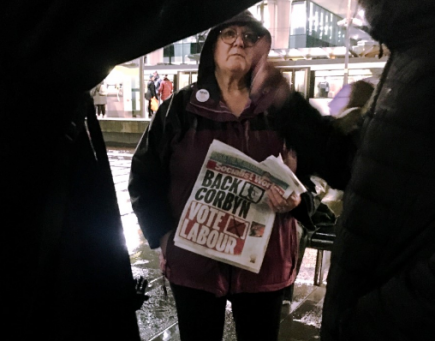 "What scares me is that while they point the fingers at Jeremy Corbyn, the far right, the real threat, that there is from the far right, is not being addressed."
The 'red wall' reduced to rubble
The final protesters filtered out into Manchester's rain-drenched streets by 19:00.
"[This] was about bringing people together," explained Ashraf, one of the last to leave. "[It's] part of [other] demonstrations all around the country, and I think they're going to continue over the weekend."
"You can sit and watch the coverage on the news and just think you're living in a parallel world, and then you come out here, and you've got lots of people around you that feel the same way."
That said, the election's result glaringly revealed Northern communities weren't in tune with Labour's message – receptive instead to the Conservatives' world view.
Key labour Northern losses included Blyth Valley, Redcar in the North-East, as well as Leigh in the North West – which turned blue for the first time since 1922.
Manchester is no longer a centre for the brand of socialism touted by Labour, but a world renown business hub equipped with skyscrapers, start-up firms and profit hungry corporations.
"In a sense, we're the majority," Ashraf assures me. "When you look at the actual popular vote, Corbyn didn't do as badly as they'd like to tell you."
But whether a left-leaning Northern alliance can rise from the ashes of Labour's electoral failure – its ties with working class voters now in tatters – remains a doubt.