Rochdale MP Simon Danczuk yesterday laid down a bouquet of white flowers outside Parliament in memory of victims of child abuse.
The vigil took place just hours before a public meeting and lobby of parliament which saw a packed room of 400 survivors, MPs and whistle-blowers come together to discuss the failing Home Office inquiry into historic institutional child abuse.
Joining fellow MPs John Mann and Sarah Champion, Labour MP Mr Danczuk spoke on Wednesday morning of the need for improvements to the law and an increase in prosecutions.
"People have been fighting for years to get recognition and their voices are now thankfully being heard. But we need to make sure this translates into meaningful change," he said.
"We need proper therapy and support for survivors, better education to protect children and the introduction of mandatory reporting, so that whistle-blowers have the protection of law.
"And what we need more than anything is successful prosecutions of the people who perpetrated abuse. The scandals of the past are preventing justice from being done."
The organising group, Time for Action and Justice, are calling for several changes to be made to the law to deliver justice to victims of child abuse.
Among these include appointing a chair to the panel 'who has demonstrably stood up to the establishment' and a government-funded National Institute for People Abused in Childhood.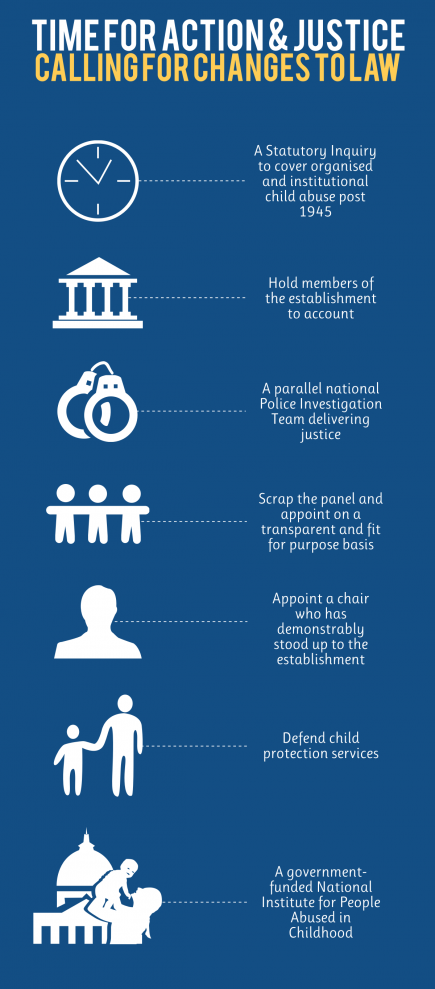 Mr Danczuk said: "Yesterday's meeting was a watershed moment for the campaign, as it was the first time so many survivors have come together in Parliament.
"We need more of this sort of action to keep pressure on the Government to get their inquiry up and running."
Referring to attending the event and speaking as 'one of his proudest moments' in his four-year career as MP for the north Manchester constituency of Rochdale, Mr Danczuk described the emotion running through the room.
"It was extremely moving hearing survivors' stories, and very encouraging to see so many people unite together under the single cause of bringing justice to victims of abuse and ensuring that children are better protected in future."
Been MP for just over 4yrs & 1 of my proudest moments was attending & speaking at the #CSAinquiry Parliament meeting today. #emotional

— Simon Danczuk (@SimonDanczuk) January 14, 2015
He added: "Chris Tuck, one of the survivors, summed up the mood well when she said, 'Child abuse has been a taboo subject, we need to take away the fear and tackle it head on'. 
"She's absolutely right. There has been a huge change in the public mood towards this crime and there is a growing sense that this campaign's time has come."
Image courtesy of Real Stories Gallery, with thanks.