Food banks in the North West reported a sharp increase in the number of emergency food parcels they provided during the first sixth months of coronavirus pandemic.
According to the Trussell Trust, food banks in their network distributed more than 154,000 emergency food parcels between April and September last year, a 36% increase on the same period in 2019.
Across Greater Manchester, the increase was higher still with areas such as Oldham reporting a 147% increase in the number of food parcels distributed.
In Lancaster, Morecambe Bay Foodbank provided 629% more food parcels during the first six months of the pandemic, and over 20,000 parcels between August and January last year.
Over the last five years, food banks run by the Trussell Trust in the North West have consistently distributed the largest number of emergency food parcels of any region in England. This number has steadily increased, from more than 160,000 in 2015 to 2016 to around 252,000 in 2019 to 2020.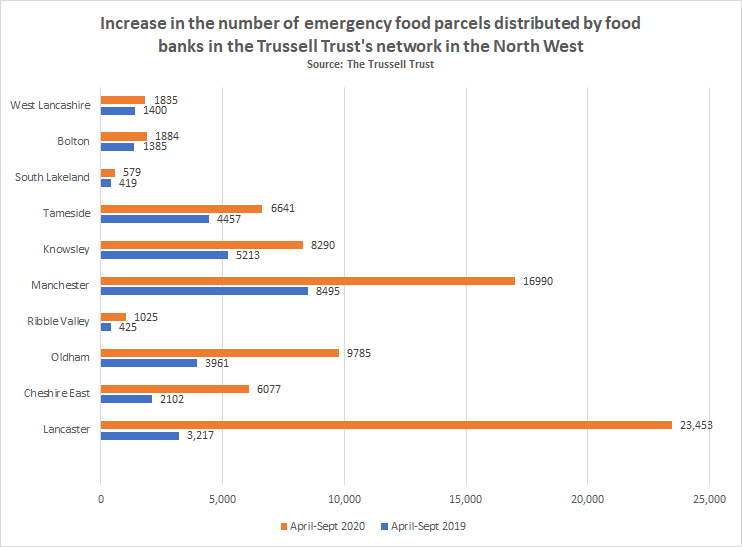 An emergency parcel contains 3 days' worth of nutritionally balanced meals.
The charity warns however that the figures do not include the number of people helped by community organisations, independent food banks, and local authorities.
One such organisation is 0161 Community, which provides outreach activities to communities across Manchester. Since the beginning of the pandemic, they have started handing out food parcels.
One member, Joe Chlebik, said: "What we will see is that if we're helping one or two people on the street, it's very very quick to being signposted to another family who needs help.
It's so clear that there is a massive, massive need and that there are people who maybe haven't used food banks before."
Likewise, Reverend Ellie Trimble runs a food bank for 2 days a week from the Church of the Apostles' in Miles Platting, and says there is a lack of access to affordable food in her community.
She said: "The only other food provision in the area was stopped [due to the pandemic], so we knew we needed to step up. So now, the situation is that we are looking after about 100 people over 2 days."
Since the announcement of the third national lockdown in January, Ellie expects demand to increase: "We're looking at moving to a three day model so we can serve more people because of this current lockdown."