If you live long enough, everyone ends up disabled – that's the message from a Stockport charity chief as Scope launch their campaign to change attitudes towards disabilities.
Scope's Kiss the awkward Goodbye campaign uses tongue-in-cheek Valentine's Day cards to highlight that there is no need to be awkward around someone just because they have a disability.
Research published by Scope found that two thirds of the British public would feel uncomfortable talking to a disabled person, largely due to the fear of saying or doing something inappropriate.
It also reveals a huge 76% have never invited a disabled person to a social occasion, and half have never started a conversation with someone who is disabled.
Kieran McMahon, Director of Disability Stockport, a voluntary organisation which supports and assists people with physical disabilities in the area, agreed that something needed to be done.
He told MM: "A lot of it comes down to a fear of the unknown, an unwillingness to offend, and lack of understanding and awareness."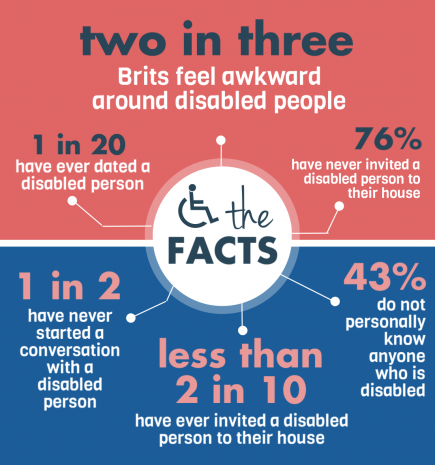 Mr McMahon highlighted that there are still a lot of myths and misconceptions floating around which affect the way we think about disability.
He said: "People seem to think only of a disabled population and a non-disabled population, which makes no sense. There are varying degrees of disability, and we are all just people essentially.
"The truth is that if you live long enough, everyone becomes disabled in some way or another."
The statistics certainly go some way to backing up this claim.
Predictably, the prevalence of disability rises with age. The extent of the increase, however, is slightly more surprising.
According to government statistics published in January 2014, around one in 20 children in the UK is disabled, compared with roughly one in five adults, and rising to almost one in two people over state pension age.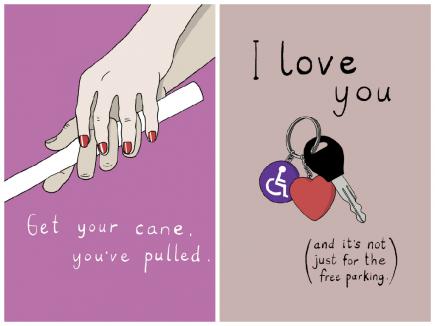 KISS GOODBYE TO AWKWARD: The campaign takes a fresh look at disabilities
To put it simply, half of us will experience some form of physical or sensory disability in our lifetime.
To acknowledge our collective vulnerability to physical disability might help to remove the unnecessarily vast distinction between disabled and able-bodied people.
Mr McMahon also spoke about the ways in which we view the physical and sporting achievements of people with disabilities, and how this can impact upon general public perception.
He said: "Campaigns by Help for Heroes and similar organisations can actually have a negative effect by dividing disabled people into 'brave heroes' and those who are just unlucky, maybe even pitiful.
"The public see people dubbed 'inspirational' for their successes on a daily basis, and it can be easy to forget that these individuals go home to the same problems as everyone else. They may still need assistance just to get around in their own homes, for instance.
"This is why you will see some disabled athletes asking not to be called 'inspirational' or to be seen as really different."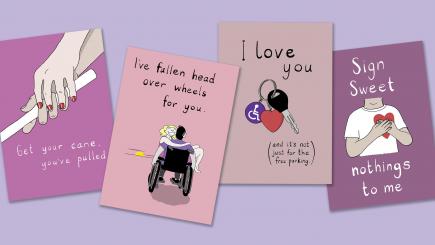 Essentially, we should not approach disabled people who are not Paralympic athletes any differently to the average person on the street who doesn't happen to be Usain Bolt or Michael Phelps.
His comments tie in with the findings published by Scope, which revealed that one in two people had never initiated conversation with a disabled person, while two in three admitted to feeling awkward around people with disabilities, and a staggering 76% have never invited a disabled person to a social occasion.
Disability Stockport provides a range of advice and support services to disabled people in the area. They hold a monthly Adult Peer Support Group, along with a range of events including courses for those living with Long Term Conditions, and supported living workshops.
For more information, visit www.disabilitystockport.co.uk
For the more details on Scope's research and 'End the Awkward' campaign, visit www.scope.org.uk/awkward