An Oldham resident has been recognised and honoured by The National Lottery and BBC Repair Shop host Jay Blades for her efforts during the coronavirus pandemic for supporting bereaved widows and widowers across Manchester. 
Oyovwe Kigho, 45, is the founder and chief executive of the Widows Empowerment Trust, a scheme set up in 2017 to end and combat loneliness. 
Since then, the organisation has helped hundreds of widows and widowers across the Greater Manchester area by including them in community social activities, providing one on one befrienders for them, peer to peer support and improving their quality of life, confidence, skills, and employability.
Oyovwe's work have earned the Oldham resident a lasting tribute in the local community, in the form of a bespoke bench, distinctively designed by BBC Repair Shop's Jay Blades. 
The bench in positioned outside Harpurhey Shopping Centre in Manchester.
She is one of 13 community workers across the UK who have been recognised for their time and efforts in supporting some of the most vulnerable in communities during the pandemic, thanks to National Lottery funding.
Oyovwe, who lives with husband Richard and children Rita, 20, Neriah, 14, Chana, 12 and Zuriel, 8, has previously been recognised with a British Citizen Award, Special Recognition Award by ITV (Good Morning Britain) and Points of Light by the Prime Minister.
"A lot of people that have really gone through grief and bereavement, they are now socialising in the community and they are now volunteers for me," said Oyovwe.
"That's a big achievement and a turning point in their lives. Coming back to give back to the organisation, and that makes me proud.
"Before Covid, we were giving a lot of different services, including face-to-face, person-to-person support. But when it came to Covid, initially I wondered about the transition, and most of the people we provide support for are elderly. It was very tricky and very challenging.
"Normally, I have a lot of volunteers who do befriending on the phone, which was still fine because they could carry on doing the phone services.
"But I had to recruit more volunteers as I have a lot of clients, and I needed a lot of volunteers to contact them.
"The next thing I thought about was how can I commit to giving them that sense of belonging? We started to talk about Zoom but having to make them connect to the Zoom was very tricky. It was very frustrating as either they did not have the devices, or they did not know how to use it.
"This was very frustrating for them, and for our volunteers as well. We just had to deal with it and try and teach them, and be patient, to understand. One of the approaches we took was using the video calls – we'd call them so we could see them on video, and gradually they got used to it."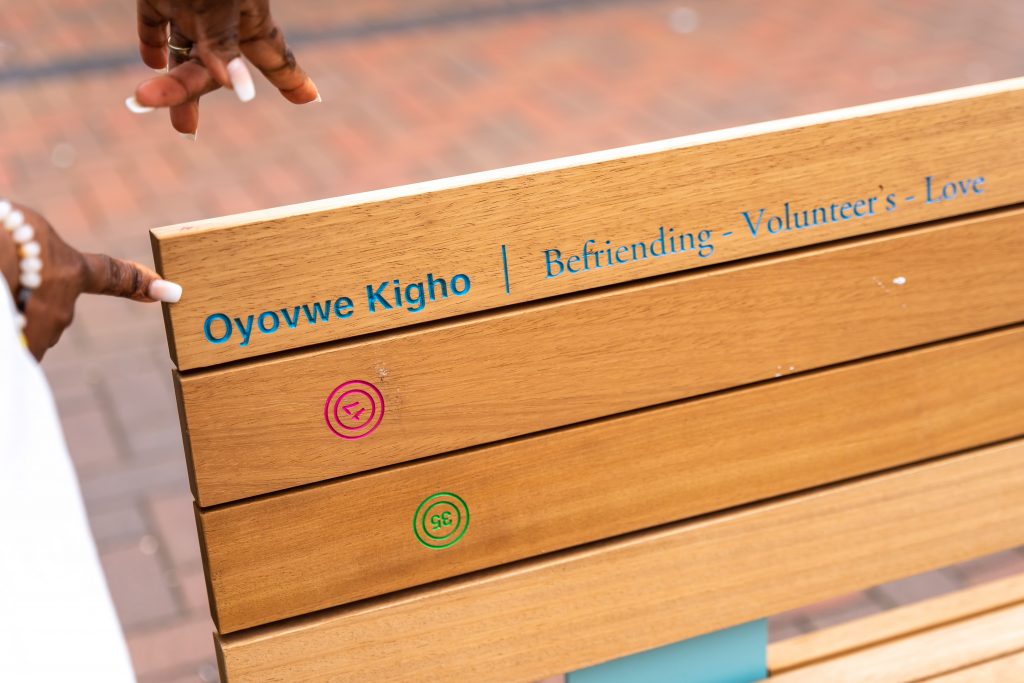 "The National Lottery funding has really been helpful, especially for our volunteers," she added. "When you have volunteers, who are not reliable or consistent, sometimes you can find it very difficult.
"The National Lottery backing has supported us and helped to fund the staff that we have now, as well as helping us to fund some of our projects.
"Some of the projects we've been doing have really connected hundreds of beneficiaries and thousands of volunteers.
"We offer opportunities and placements for universities as well, so the funding we've had has opened up space and more opportunities to do placements with us, and for volunteers to engage in the community.
Jay Blades said: "Like most of us, I have witnessed inspirational acts of selflessness and kindness over the past 18 months as people have adapted their lives to help others. It has been an honour to hear about the 13 people whose work is being honoured with a bespoke bench being placed in their local area. Each bench represents the person's personality, passions and the impact they have had on others in their community."
The People's Benches project first launched in 2020, selecting exceptional community heroes to honour from over 13,000 community projects funded by The National Lottery Community Fund since the start of the Covid-19 pandemic.
David Knott, Interim CEO of The National Lottery Community Fund said: "Throughout these challenging times, the power of individuals and organisations in supporting communities and people's wellbeing has been so inspiring. As we reflect on the past year, I am proud to spotlight incredible individuals like Oyovwe, from Widow's Empowerment Trust – they represent the best of human and community spirit."
The National Lottery contributes around £36 million to good causes in the UK every week. With the help of this funding, thousands of people and thousands of projects across the UK are supporting their communities in response to the Covid-19 pandemic.