An eBay bidding war for a pair of ultra-rare Adidas Manchester trainers has reached more than £150,000 – 2,000 times their original price.
The city-themed Adidas Originals, which were released on 500-strong limited run in 2010, have captured the imagination of online auction buyers after it was posted on Sunday.
After starting on 99p, the price was given a swift kick from £31 to £900 before making jumps of up to 50,000 between offers in a bidding frenzy on Monday evening.
The trainers were eventually sold for an eye-watering £152,200 – around the same price as a Bentley Continental GT Speed, a two-bedroom flat in the city centre or even the skeleton of woolly mammoth at auction.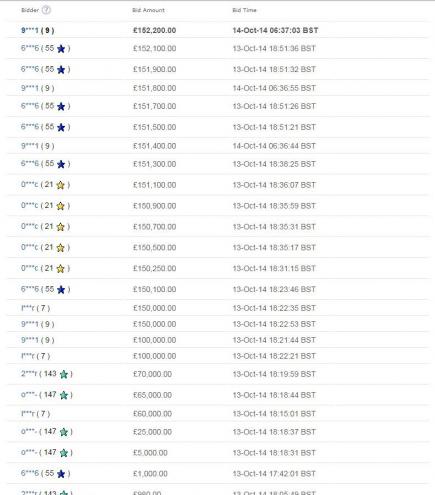 BIDDING WAR: Huge offers flew in to grab the trainers
The £69.99 trainers are a part of a six-city team up between the German trainer giant and retailer Size? to celebrate the sneaker specialists' tenth anniversary after they formed in 2000.
The Manchester design incorporated the red and blue of the city's two football teams – United and City – with a gold trim and each pair are numbered 1 to 500.
As well as the Manchester trainers, the eBay seller is also offering editions from Zurich, German cities Berlin and Cologne as well as Danish capital Copenhagen – but none have topped £200 in their respective auctions.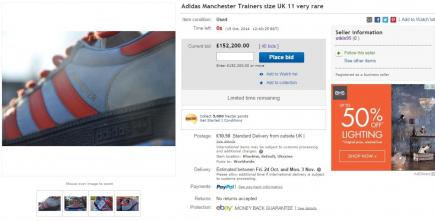 FINAL TOTAL: The winning bidder racked up a £152K bill – enough to buy a Bentley
Based on existing Originals, the editions were inspired by cultural aspects of six chosen UK and Irish cities with London, Dublin, Glasgow, Cardiff and Birmingham joining Manchester.
The Manchester trainers were the second of the series and were released on April 27 2010, following the London edition which hit shelves on March 22.
With reports of queues of up to 18 hours at launch, the sought-after shoes saw only 300 jackets and 500 trainers produced for each design worldwide.
The retro-themed designs recalled Adidas trainers originally released in the 1970s.
The sportswear company have already splashed the cash in the city this year after it was announced they would take over Nike's contract with Manchester United next year with a record ten-year £750million deal.
Images courtesy of eBay, with thanks.