ChildLine founder Dame Esther Rantzen has called for more volunteers to help the charity during a celebratory visit to the organisation's Salford base today for its 22nd birthday.
Rantzen, recently made a Dame in the New Year's honours list, visited ChildLine's Salford centre to pay tribute to those who have supported the counselling service in this area over the last 22 years.
The former television presenter, who helped set up the charity in 1986 to provide children with free confidential advice, paid tribute to volunteers while emphasising the need for more people to come forward.
The 74-year-old said: "ChildLine has achieved so much in 22 years in Manchester, and I can't thank our local volunteers and supporters enough.
"We know we save children's lives, bring abusers to justice and protect children from pain.
"This is the first time I've been able to visit our base in Manchester since its move to Salford, and I thank all our dedicated volunteers in person.
"But we still need more volunteers to join us and help us be there for more children and young people."
During a period of 12 months starting from April 2013, the ChildLine base in Manchester dealt with 35,745 counselling sessions with children and young people from across the UK, either by phone or via its online service.
During her visit, Rantzen recognised a number of volunteers that have given up their time to help deal with this vast demand, including 79-year-old Trudy Barres from Prestwich.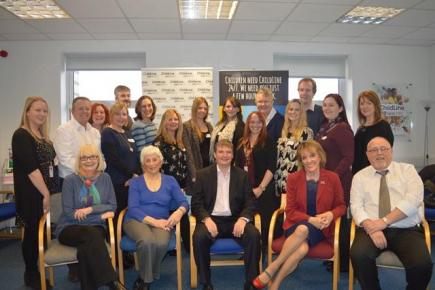 22 YEARS STRONG: Esther thanked the charity's Salford volunteers
Trudy, who has volunteered in Manchester since July 1995, said: "I became a volunteer for ChildLine because I had been looking after my sick husband for 12 years but he died and I found that I had some time on my hands.
"I find volunteering extremely rewarding and it's heart-warming to know that we are providing a lifeline for many troubled children."
Another volunteer, Alison Berry, from Altringham said: "Sometimes, the most important thing for them [children] is that someone is really listening.
"I have been volunteering for 10 years and I'm pleased to be part of such a dedicated team of people," the 70-year-old said.
The charity has expressed a need for more people to come forward and join the ChildLine team in Manchester.
Volunteers are particularly needed for evening and weekend shifts, which are often busy periods when children may call the service.
Anyone who is interested in finding out more about volunteering in Manchester can contact ChildLine Manchester base on 0161 393 4407 or email: [email protected]
People over the age of 16 can volunteer for ChildLine. Potential volunteers will initially need to commit to 43 hours for training and assessment. They will then be required to do a weekly shift for a minimum of 12 months.
Children and young people can get support by calling ChildLine on 0800 1111 and can also receive information and support via the website where they can make contact through email.