Four disabled women are aiming to break down barriers in the fashion industry with a petition to ensure the visibility of people with disabilities.
Their petition, which currently has over 1000 signatures, proposes that the government should regulate the employment of models as one in six people in the UK are disabled, but this is not fairly represented in the exclusivity of the fashion industry.
One of the women involved in the petition is North West model Gemma Flanagan, who contracted Guillain Barre Syndrome (GBS) while working as a cabin crew member in 2011.
She told MM: "At my worst I was completely paralysed and spent the best part of a year in hospital fighting against it, then in rehabilitation learning to swallow, write and to attempt to walk again.
"Four years on, I am now unable to stand or walk unaided due to the damage to my back, core, hips and legs.
"I have constant pain, relying heavily on a wheelchair and occasionally crutches."
Unable to go back to her job, which saw her travel all over the world, Gemma needed to find another passion.
It was then, during her recovery, she discovered Models of Diversity and CEO Angel Sinclair who she describes as 'amazing'.
She said: "I was so thankful that an organisation like Models of Diversity existed and so proud to be a part of it.
"It helped me build my confidence back up and learn to love my new, slightly different body.
"Most of all it helped me realise that I was still me, and I could be the same glamorous, adventurous and determined girl I was before."
Gemma's new path saw her become an Assistant Director for models with disabilities and take part in a number of Models of Diversity fashion shows and shoots.
The team hoping to go all the way to parliament with the petition also includes Chelsey Day, Elesha Turner and Katie Knowlse.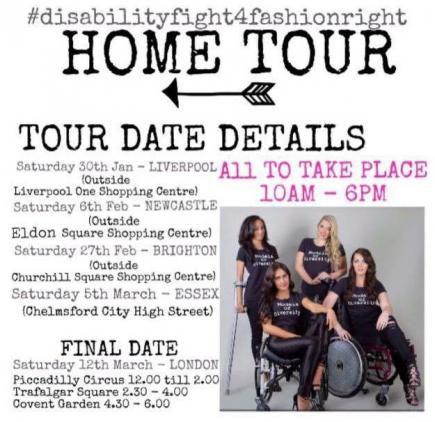 Gemma said: "We want our communities to get behind us and see the reasons for us doing what we are doing and to see how important it is for changes to be made.
"This is a cause that goes much further than just the four of us. We want to ensure that discrimination we have faced as models comes to an end.
"We want the younger generation with disabilities to be able to grow up and see that disability should not stop them from pursuing their dreams and to show they are represented in fashion."
The petition needs 10,000 signatures to get a response from the government and 100,000 to be considered for debate at parliament.
High profile figures Stretford and Urmston MP Kate Green and Baroness Hussein-Ece have already given their support to the petition.
The models have been promoting the petition across social media and are going on tour in the UK to get more signatures.
Gemma said: "I am so proud that we are doing what we are doing to help make it a reality."
Follow the hashtag #disabilityfight4fashionright for more information and sign the petition here. 
Images courtesy of Models of Diversity, with thanks